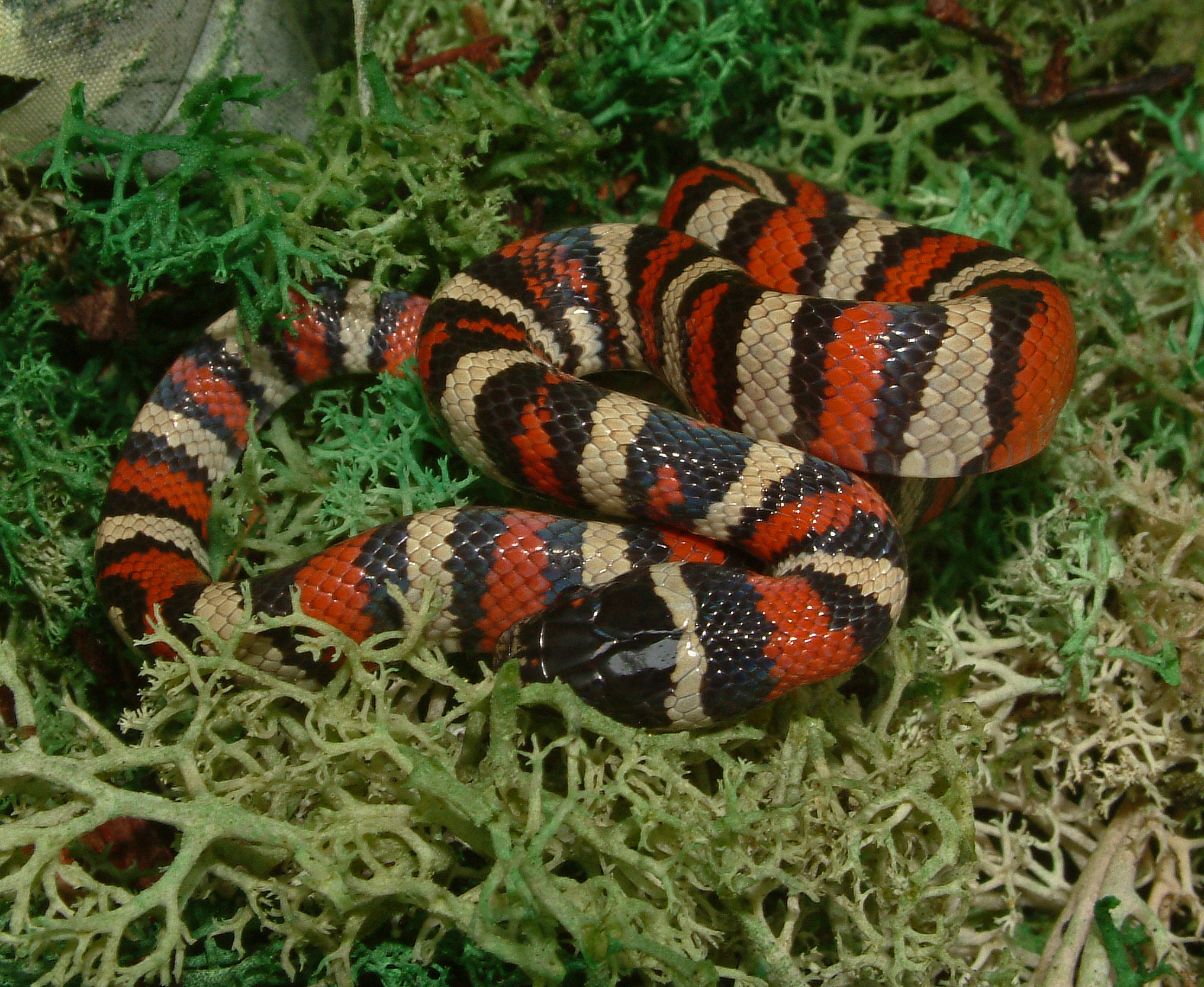 Initial introduction to a new enclosure:

This is a pivotal moment in a new snakes life. Everything is new, nothing smells like home. This potentially is the largest stress that we are going to put on our snake. What happens initially from here is all important to ensure your snake settles in adequately. In the immediate term , certainly for the first 5-7 days the snake is not to be handled. Handling your snake will hamper this settling in process and add more stress onto the snake. After our initial settling in period the first job of the keeper is to ensure the snake feeds successfully.

If a snake is still stressed out (potentially from not being left alone to settle in) it may refuse food. To refuse a first meal is not unheard of so if it is refused do not panic. Remember it's a snake not a hamster, there is time for things to fall into place. If an animal is stressed it may upset the stomach, so in certain cases a snake may feed and then throw up the meal a short while after. This is more problematic than refusal. The action of regurgitating the meal may have irritated the throat and stomach lining and it is best practice to leave it a few weeks to settle down. So as hard as it might be, as strong as the temptation may be; leave your snake alone to settle in.

When a snake enters a new enclosure for the first time we can expect a lot of roaming and investigating initially, then the snake will seemingly go to ground and disappear. Snakes will usually defecate within hours of entering a new enclosure. Under normal circumstances it is good practice to stay on top of spot cleaning the enclosure but for this settling in period we are going to let this slide. By leaving the faecal material within the enclosure this provides a chemical marker for the snake to reference as it investigates it's new tank.

During the first week settling in and before the first feeding effort takes place it should also be anticipated that a snake, particularly a baby may be more defensive, even aggressive than would be anticipated normally. Try to keep perspective about what a monumental change you are putting this animal through. Yes the snakes recommended here are some of the very best species to keep as a novice but just give them some time to settle in initially.

Once the first feed has taken place we must always wait 48 hours before handling the snake. This rule remains true for the rest of the snake's life.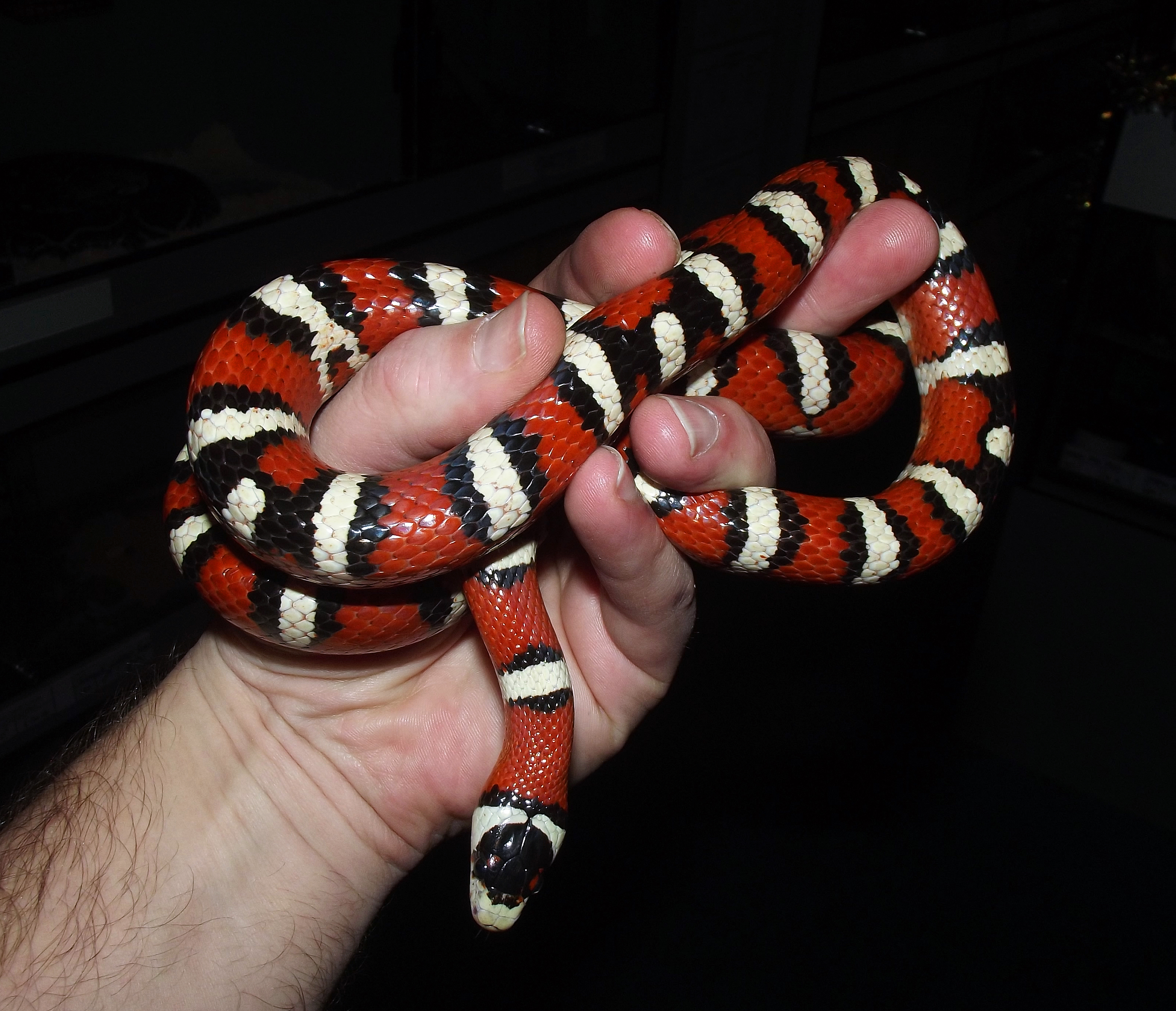 Handling your pet

Handling regularity and duration:

This is difficult to make cast iron recommendations on, as snakes vary so much not only from species to species but also from individual to individual. Broad recommendations relating to age can be made however with the understanding that any issues that arise such as refusing food we react to quickly. Baby snakes are less tolerant than older animals. Handling sessions should be short and the interval between sessions quite widely spaced to allow to snake to calm back down after handling. As the snake gains weight and grows, which of course is our main priority their tolerance and patience increases. Watch for signs of agitation and restless or fast behaviour after a while. This is a sign the snake has had enough and should be returned to its enclosure. By the time the snake is approximately 18 months old its tolerance for handling will have grown considerably. In most instances the snake can be handled each day apart for the 48hrs we are waiting after feeding. Most snakes will be quite happy for 5-10 minutes a day with no adverse affects to their health. By the time the snake is approaching adult size after 3 years most species are now well socialized and can be handled for up to 20 minutes a day apart from the 48 hours after feeding. If we notice reticent to feed or adverse confrontation behaviour consider you may have exceeded what your individual snake is comfortable with when it comes to interaction. All snakes are different.

Removing the snake from the enclosure:

Upon entering a snakes enclosure you are within the animal's territory. If a snake is going to feel threatened it is during the process of removing the animal from the enclosure. The longer this process takes the more likely we are going to run into territoriality issues with the snake. We do not believe in petting or stroking a snake it its own environment. The snake should be removed so as to encourage submission and compliance with the keeper.

With as little disturbance as possible locate the snake, in most instances certainly for younger snake they will be hiding. Gently hook a coil of the snakes mid body with your index finger and lift in a smooth and steady fashion. Take care not to allow the snake to use its head to coil around any of the vivarium apparatus as they may hang on to stop you from removing them from the enclosure. Once the snake is removed from the enclosure most snakes that have displayed any behavioural issues that we may associate with territoriality will become submissive and compliant.

 
Handling technique:

It is important a snake can move freely. Snakes do not take kindly to being restrained. Make sure our hands are not sweaty so that the snake does not stick to our skin resulting in jerking movements by the snake. Snakes have very sensitive heads, whilst the common understanding is that snakes are deaf they are highly sensitive to vibration. Some of the bones we associate with the inner ear and hearing apparatus are still present and closely aligned to the lower jaw. As the chin is regularly in contact with the ground care should be taken around the snakes head. If the snake wants to investigate you by flicking its tongue onto your skin to smell you or it wishes to rest its head on your person that is fine. Approaching a snakes head and touching it is not recommended, it can trigger flight by rapid reversal of direction and maybe even biting if the snake feels adequately threatened. The best way to explain handling technique is to imagine your hands are limbs and branches on a tree that the snake will use to exercise around. Allow the first third of the snakes body to investigate and look around whilst supporting the midriff and tail. Often times it does not escape a snake it is off the ground and in an effort to feel well supported may wrap its tail (surprisingly tightly) around a wrist or finger. This is normal. Initially until you are totally comfortable with the handling process ensure this is not done in a crowded room particularly if there is likely to be over eager hands rushing in to touch the snake. Handling should take place in a quiet and calm manner to ensure the snake stays as calm as possible as it begins to realise you are not a threat.

Younger keepers should always be supervised during handling sessions. Parents know their children and need to honestly assess how mature and responsible their child is regarding the free handling of animals. Our advice would be certainly in the early days of snake keeping experience to make it a family experience for you all to share together to be able to see the interactions of the child with the animal. Baby snakes rarely tolerate stroking, this should be taken into consideration. Conversely a mature animal will show no adverse reactions at all to being petted gently. Once again tolerances to this will grow with time. The initial building of a relationship with a baby snake should be by handling only and with the introduction of stroking at a later date. I cannot specify when that later date will be, it depends on the individual snake. Watch the snakes demeanour you will learn to interpret behaviours as compliant or not.

Free roaming.

A monumentally bad idea. Snakes have a very nasty habit of going precisely where we don't want them to and making their return a nightmare situation. They will find their way down into the cavities of sofas, they will seek out cracks in floorboards, they will search out gaps in pipe cladding making for nightmare situation of a disappearing snake. Consider the room you are in now as you read this book. Take a moment to risk assess just how many nooks, crannies and bolt holes your snake could disappear to. Whilst trying to find your snake again it will potentially feel the vibrations of you moving around frantically trying to find them and they may well keep on the move meaning areas need to be searched more than once. An altogether safer proposition is to forego free roaming and allow the handling time you to be one of its major forms of exercise.

Bathing.

This is not something that needs to happen but some keepers like to allow their snake to swim. Certain species would naturally swim as part of their life cycle, others however would not. Owing to having a large tubular lung they float well and all snakes can swim. Yes a single lung not a pair, granted a few types of snakes till have two but the vast majority have had to adapt the way organs are sized to fit into a tube of a body. The left lung may be present but is often vestigial (small and unused) the right lung has been extended down the length of the body. The very rear of this lung is called the saccular lung and is used more as a buoyancy aid than for oxygen extraction. Swimming can be useful exercise for snakes particularly those that we may have been a little generous with when it comes to mouse size portions. Swimming in tepid water loosens stools so be warned it is common for snakes to pass urate and faecal material in the bath or tub. Snakes are at no detriment not being given swimming opportunities though and will be quite happy to stay in the safety of their enclosure.

Outside:

This too can be as risky as free roaming. Supervision is essential. We have never subscribed to allowing snakes outside but if we think about it there may be benefits by way of stimulus and enrichment for the snakes life. The snake may be stimulated by the new smells and tastes and shapes to investigate. The snake may also feel threatened and respond badly to this over stimulus. As always this is down to the individual. Be mindful of pests such as cats that may pose a threat to your snake as well as pathogens it may encounter to which it has little or no natural defences being captive bred and not of wild origin. If you live in temperate regions be considerate of outdoor temperature, your blood is a stable 37°c, your snakes is not. Equally on sunny days patio stone flags and tarmac can become excessively heated by the sun, do not allow your snake into contact with these surfaces either.



Common issues with snakes:

Stress usually plays quite an important role here. More than often these issues arise when an animal is settling in to a new enclosure it does not recognize as its own.

Feeding Problems:

It is not uncommon for snakes to go through periods of fasting as part of their natural lifecycle. As keepers we need to work out whether this is as a result of stress or it is just a response to seasonal changes and preparation for the breeding season. For immature animals not yet effected by sex drive and other factors we can usually pretty safely assume this is down to stress. Cease handling of your snake, occasionally particularly with babies they can become stressed from too much interaction with their keeper. By eliminating handling we remove a variable that could be to blame. Systematically work through the suggestions made in this book regarding temperature control and correct range, enclosure set up including multiple hides and enclosure positioning around the house.

Sometimes, you may have been sold an immature animal that is not yet established on food. In these situations if possible contact the breeder or shop the animal was bought from to establish previous feeding regime and any techniques used. You should have also been provided with the animal's feeding record so you can establish the regularity of feeding intervals. It s important we do not act too hastily, some snakes will take several weeks to settle in to their new enclosure. Because of this allow up to 4 weeks for feeding to begin. Refrain from handling the snake until feeding begins. Most suppliers if a quality breeder or outlet will happily establish the snake feeding once more for you to try again. If for whatever reason that is not an option there are little tricks that can be used to try and get a stubborn baby snake to feed.

• Don't use fingers to feed your snake, use tongs or pincers that distance your hand from the snake, your scent may mask the scent of the prey. This also eliminates the risk of being bitten by an over enthusiastic or defensive snake.
• Make sure the room is quiet and there are not people moving around that may distract your snake.
• Consider feeding your snake at dusk or at night when many species would actively hunt
• Try popping the pinkies head using an old sharp knife or metal rod (drive the rod through the skull of the prey item and squeeze some of the contents out and paste over the head. This smell can encourage many animals to feed.
• Try using chick fluff to mask the scent of the mouse as many snakes will also take fledgling birds as a natural prey.
• Try using tuna flakes to mask scent, some snakes seem to love the smell and this can kick them in with feeding.
• Try leaving the prey item in the enclosure overnight, some animals particularly the Hog noses (Heterodon) may take smellier and older prey items.
• Try putting the snake in a much smaller container with the prey item to encourage it discovering the prey item.
• Try flash heating the head of the prey item in hot water. Do not defrost in hot water, merely superficially heat the skin of the prey item for 10 seconds and offer on tongs.
• Try individually or multiple tricks at once to try and get your snake going on food.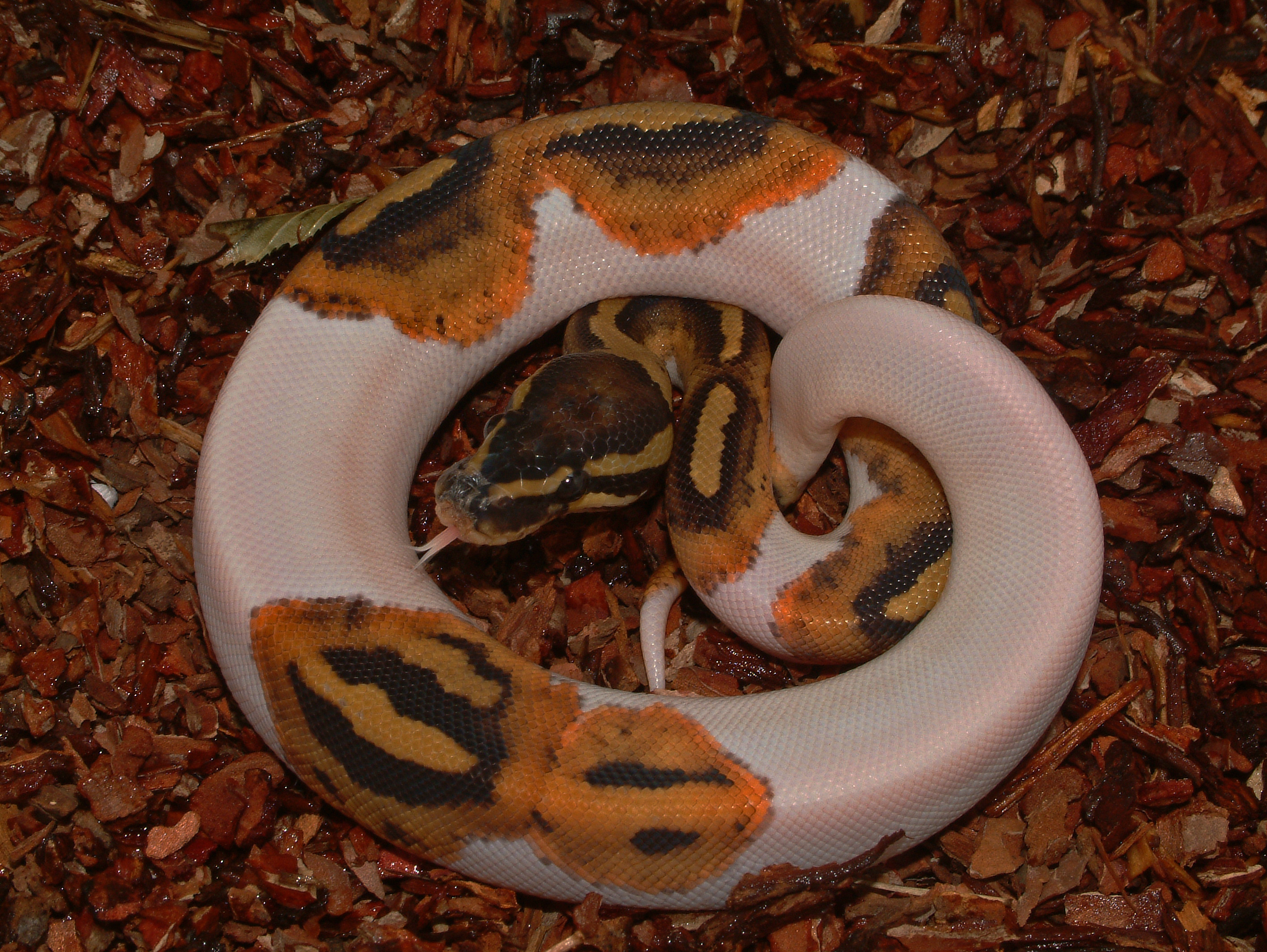 Do not increase the regularity of feeding attempts, and already stressed snakes may become even more so if it is being disturbed by keeper and prey item incessantly. Sometimes it is a matter of patience. Do not lose sight of the fact that we are dealing with a reptile. One of nature's most efficient animals and what we regard as a long time without eating may be no time at all for a reptile. Most keepers are pre-programmed to be sensitive to food intake because their previous pets may have been the smaller mammals such as hamsters, gerbils and guinea pigs etc. If one of these animals were to go more than 48 hours with eating they would be panicking. Remind yourself you are dealing with a reptile and we can afford to be relaxed about initial food intake.

Another consideration may be that the snake is about to begin or is mid way through a shed cycle. It is common place for snakes to refuse food during these periods. By allowing time before panicking it may become obvious as the snake dulls and eventually goes into milk thus revealing a highly possible reason why the snake has forgone nourishment.

Shedding Problems:

New snakes which we are settling in to a new tank may well be in a state of stress, stress wreaks havoc on the endocrine system. The endocrine system is responsible for the management of the shed cycle. If under stress it is normal for a snake to shed badly even in a perfect environment. This will usually right its self and should not become an ongoing issue as the animal settles in. That is assuming all is well with the settings, levels and design of your enclosure. If we suspect the skin is left on areas of the snake it is important we take action. Two main problem areas exist with stuck skin. The most commonly seen issue is with the retention of skin around the tail tip. If this is not dealt with each subsequent shed will snag in the same place. As the rest of the snake grows, the parts with the restrictive skin layers cannot. Eventually blood supply is stopped to this part of the tail and it will die. Eventually this part of the tail will drop off and snakes with cropped tails are not rare in the hobby. This is shame because it is so easily rectified. The other problem region of stuck shed skin is the protective eye scale called the brille. This can also be retained when problem sheds occur. Keepers should always check their skins when they remove them from the enclosure to make sure both brille are present and have been sloughed without issue. If they have been retained action must be undertaken immediately to remove them before the skin dries hard to the brille beneath.

It is worthwhile getting a Tupperware or similar plastic container that you don't mind drilling some ventilation holes in. Using tepid water put enough fluid in to allow the snake to swim. Securely replace the lid with the snake within, leave the snake to swim for around 30 minutes. If you are concerned the water will cool too much place the container with the snake within into the enclosure so it can benefit from the heat provided. On occasion you may find the swimming action is enough to remove the skin without intervention other times by gently try to roll the skin down towards the tail it is possible to remove it as a neat sleeve.

Eye scales can be somewhat more problematic, snakes rarely enjoy anyone being near or touching their face. Try to restrain the snake firmly but gently behind the head and using a finger nail attempt to dislodge the eye scale by gently levering it up at the nose side and peeling towards the tail. If for whatever reason you feel uncomfortable with this contact a local specialist pet shop or the breeder where the snake came from for assistance.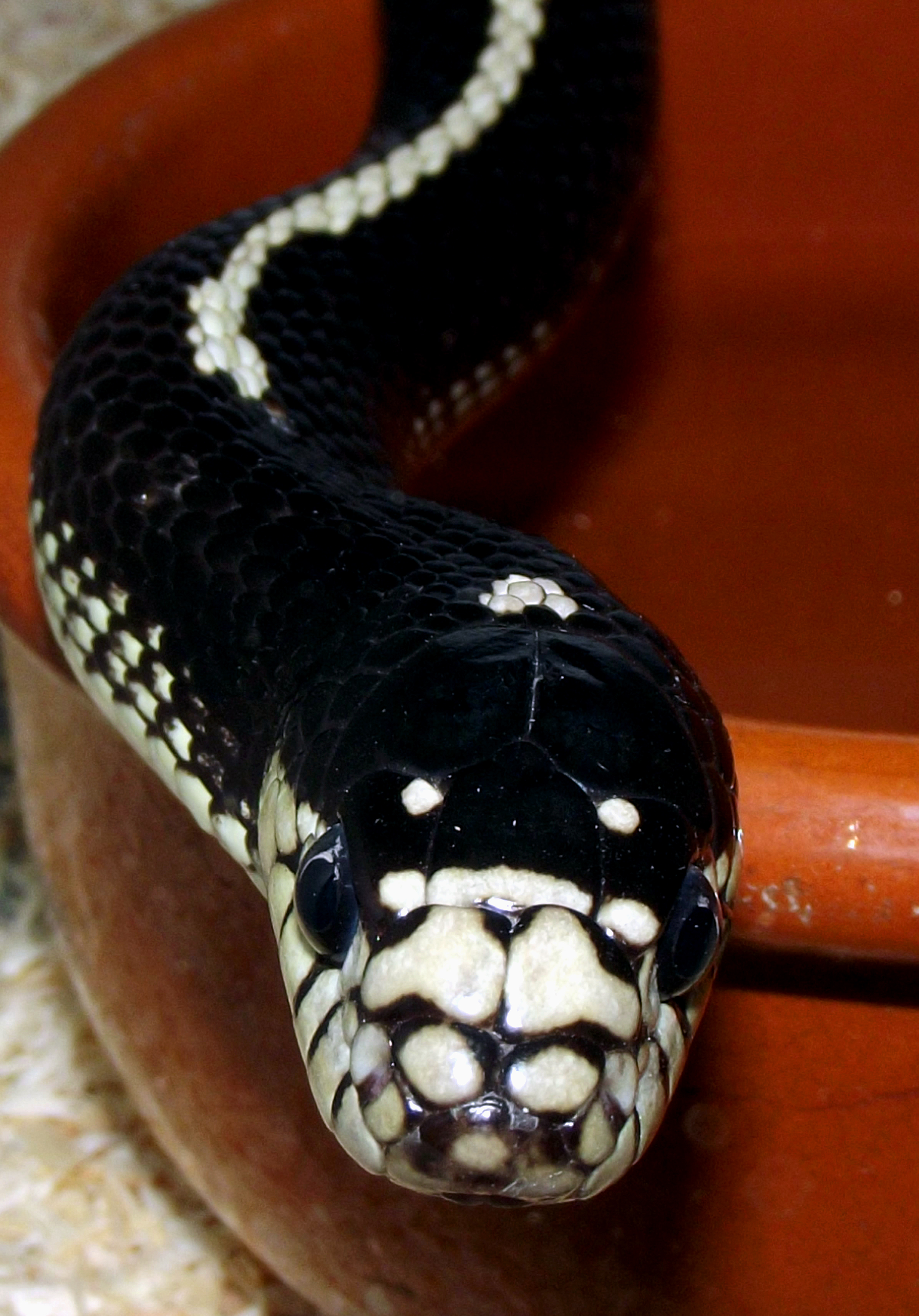 *If concerned or lacking in confidence seek out veterinary advice. Some of these treatments are very strong and it is easy to get wrong*

Dealing with snake mites
The enclosure:

• Ardap. Is an incredibly strong aerosol spray insecticide used to fumigate vivariums, chicken coops and kennels. This spray must only be used in well ventilated rooms where all animals have been removed. Highly effective in dealing with mites but will cause serious neurological issue to animals sprayed with it. Remove the water bowl and spray entire inside of the enclosure including décor and apparatus for 5-10 seconds. Close enclosure doors. Leave to fumigate tank for 20 minutes. Remove enclosure doors for a further 20-40 minutes (or until the smell of the spray has gone). The snake can be bathing during this time either in water or oil to try and remove as many mites as possible. This is a highly effective spray mistakes during application can be costly, even deadly to animals.


Both the snake and enclosure:

• Callington™. Also known as Callington's Top of Descent ™. A spray that originated in Australia and was widely used in passenger aircraft to deal with any stow away bugs that may have hitched a ride inside on passenger clothing. Seemingly non toxic to vertebrates but deadly to invertebrates it has proven useful in the fight against reptile mites. Subsequent generations of mites may now be developing resistances to this treatment. Remove water bowl and spray the enclosure with the snake still present. Close enclosure doors and allow tank to be fumigated. Subsequent generations of mites may now be developing resistances to this treatment. Can be used in conjunction with Frontline from the vet.

• Prevent-A-Mite ™. An American aerosol spray variant that will bond to surfaces and kill mites for up to 30 days after use. Being British I have never used this method and cannot comment on application or efficacy.

• Hot Shots ™ or Vapona ™ No Pest Strips. The active ingredient here is diclovos which is an organophosphate used as an insecticide. It comes in the form of a large yellow rectangular block. This can be cut up with a robust pair of scissors. Usually a square centimetre of yellow block per cubic ft of enclosure. Place cut up section of block within a cricket tub or wax worm or mealworm pot and tape closed so the lid cannot come off. Remove the water bowl from the enclosure, leave snake in enclosure and place tub within the enclosure for 48 hours. Remove tub, replace water bowl for 24 hours, remove water bowl and replace tub for 48 hours. Repeat for a period of 9-12 days. Wait 7-10 days and repeat process again.

• Hydroaspis or Taurus Mites. Predatory mite cultures that can be purchased from specialist pet centres or online. They prey specifically on snake mites and will consume both adult and eggs. Just place in the enclosure and let them do their thing. This methodology may be particularly useful for complex enclosures we do not want to strip out and clean. Be prepared for it to take a while to shift infestations in these types of enclosures.

Many experienced keepers will have developed their own process of elimination for mites.


Weight loss problems:

It would be unusual for an snake to suffer rapid weight loss in captivity as a captive bred animal. This sort of symptom is usually reserved for imported animals with heavy infestations of internal parasites and a immune system at the point of failure with stress. If rapid weight loss is occurring with your snake it raises two questions. Is your snake wild caught? Or has it been in contact with wild caught specimens? In either case it would be advisable to engage the breeder in dialogue as soon as this has been confirmed by a laboratory or vet as the cause.

With the species discussed within this book in a captive bred state bought from a reputable source, rapid weight loss should simply not be encountered. These species have been selected for the comparative robustness of their immune system or their multiple generations of captive bred history in the hobby.

As a safety measure double check temperatures to ensure the enclosure is not running excessively hot and creating chronic dehydration. As long as you have a thermostatic control in place and thermometers to monitor it this is unlikely.

This should not be an issue as in the first instance your snake should not have a cage mate. This is not a statement for life, it is a statement for now. Novice keepers have enough on their plate trying to work out how to keep a single specimen happy. By adding a competitive environment to that they may be making more work for themselves. Balancing the lives of multiple animals in a single enclosures is always more complex than meeting the needs of the individual. Lets walk before we run. Certain species in this book are cannibals and this will never be a permanent option, only for breeding purposes and even then the owner will be to be extra vigilant with these species.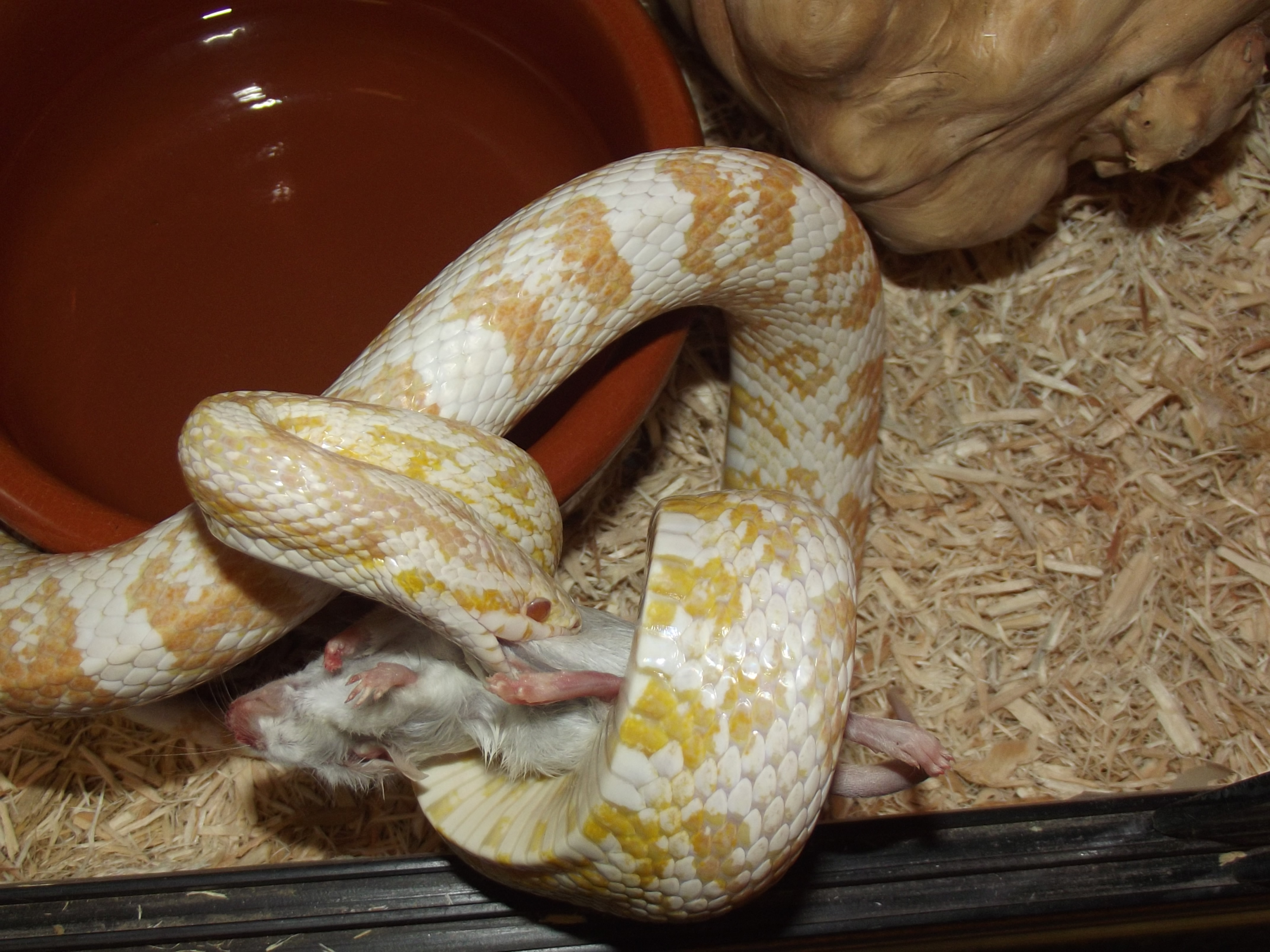 Food and feeding of snakes:

Snakes do the vast proportion of their growing within the first three years of life. Of the three years the first twelve months is most important. Generally speaking we are more generous with food in the first year than we are later in life (the only exception being when we are conditioning females to breed later in life) Snakes are usually very small at birth and suffer with predators as a result. Snakes need to feed, grow and shed rapidly to move up the food chain as a matter of urgency and become an effective predator in their own right. Feeding regimes vary species to species depending upon metabolic rate, usually neonatal snakes are fed every 5-10 days. There are different food choices to be made. Some choices will only become options later in life due to size. Some snakes are picky about size, colour, smell and a certain amount of trial and error may be needed to find foods your snake enjoys. As with all things, particularly with older animals we can experiment with different food types to offer variety of diet.

Others may want more select options based on origin. Or example Royal Pythons (Python regius) seem to have a predilection for multimammate mice and gerbils. Prey items are purchased frozen at a local pet store, certainly in the case of mice, rats and chicks are usually clean and smell free. Many rodents are excess lab stock, some may even come with certificates stating they are disease and pathogen free.

Foods should be allowed to thaw naturally. Complete prey means just that. All entrails and waste products are still present within the carcass of the prey item. By using means of artificially warming prey we could encourage bacterial reproduction. This may cause issues for the snake, plus warm or hot water may remove scent and reduce or remove recognition of prey. Wet prey may also cause substrates to stick to the fur and be ingested alongside causing further issues. The only time hot water could be used is to 'flash heat' the head of a prey item for snakes with heat-sensing pits to use for accuracy and stimulus purposes.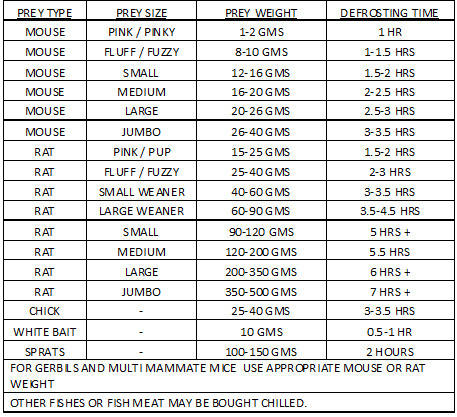 The above is based upon normal room temperature. Just fold in kitchen towel or a sheet of newpaper. Keep away from direct light, radiators and microwaves. No snake covered here will ever need a larger prey item than listed. Always pinch prey between your index finger and thumb in the thickest part of the body to check it is fully thawed and the prey feels room temperature.

Certain snakes process food faster than others. The faster the metabolism the quicker they will produce waste as a result. Fish and amphibian specialists from the Colubrid genera of Natrix, Nerodia and Thamnophis have the fastest metabolism of all. All other colubrid snakes are second fastest, the slowest group being the Boas and Pythons. We have to vary feeding rate to reflect this to avoid obesity later in life. Yes snakes can become obese, this is actually a very common problem within the hobby.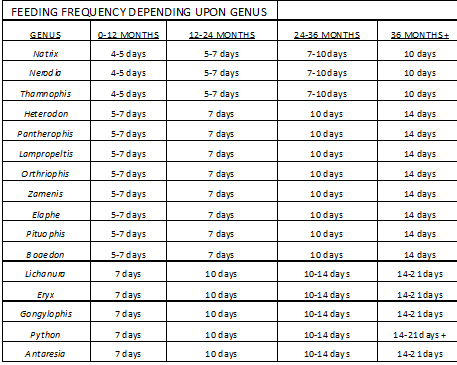 Once the initial growth spurt of the first 12 months subsides we begin to slow the frequency of feeding. 3 years of age onwards we want minimal growth and it almost becomes a maintenance diet. Snakes should be lean and svelte. It is incredibly easy to create a fat snake and incredibly hard to convince one of nature's most efficient animals to lose weight if necessary. It is always best to air to the side of caution and be conservative with feeding.

It is unfortunate but snake owners always seem to be in a rush to get their snake as big as possible as quickly as possible. The end result is a horribly distended balloon that barely resembles it's natural form or muscle tone. Power feeding as it is known adds mass at an unnatural rate, the body grows in time with nutrition where as the cranium and skull seems to grow at a slower rate. This gives way to the expression pin head, a snake which has the mass of an adult animal but its head sizes gives away
It's true age.

Growth is guaranteed as our snake feeds, even at recommended rates. Because of the restrictive suit of armour that is the snakes skin can only distend so far, new skin is generated with greater stretch and larger scales beneath the existing skin. The process of shedding is preceeded by the snake beginning to dull in overall complexion. As time goes on the snake will begin to develop a bluish white hue. How noticeable this is will vary from snake to snake. The bluish white contrasts most with the darkest species of snake carrying more melanin in their pattern. Where you may struggle more is with colour mutations that remove most, if not all of the natural pigmentation.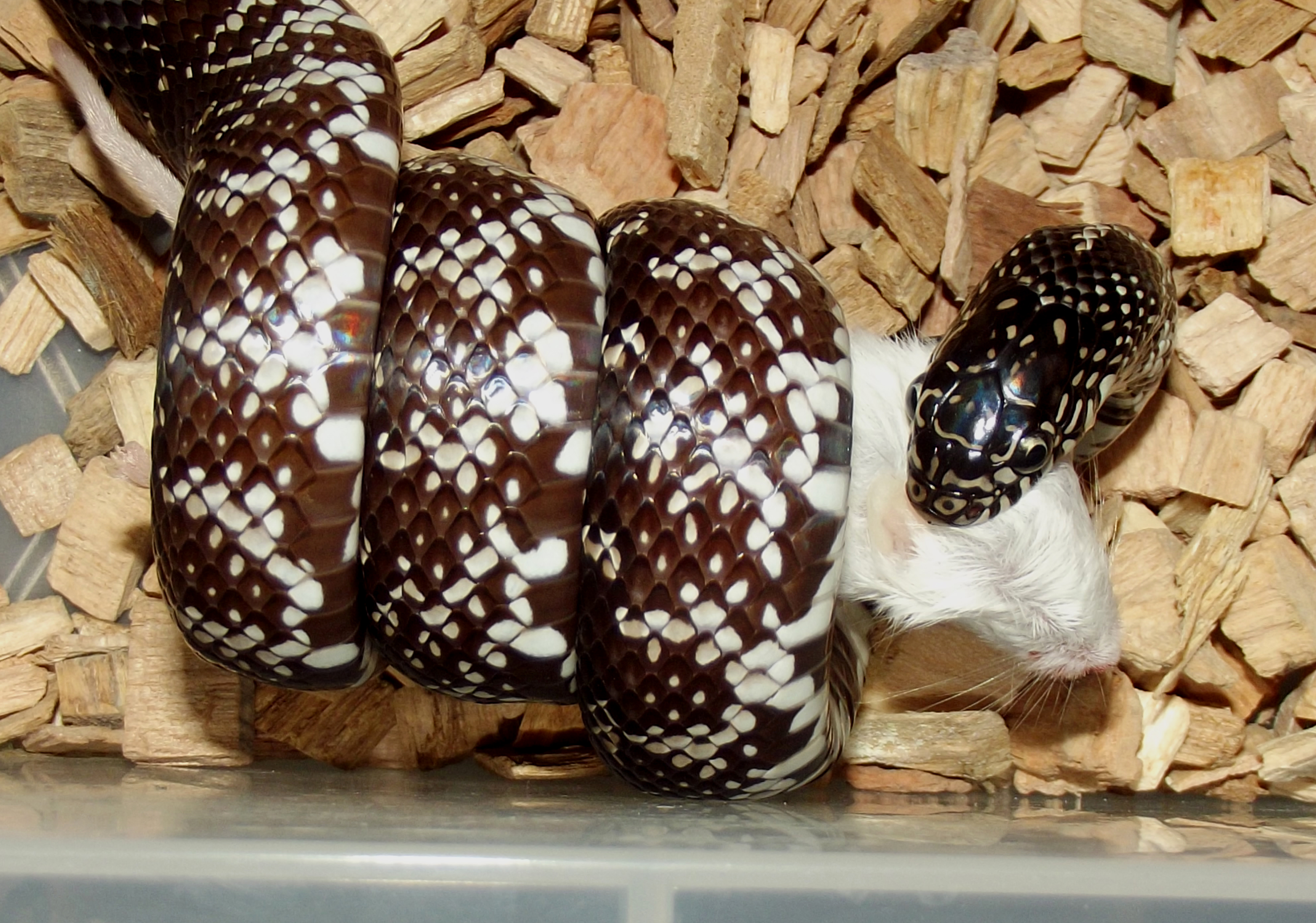 Why is it important that we notice?

A lot of snake species even one we may consider arid in origin may appreciate a hide that has damp substrate. This would usually be provided as a moss box, the purpose of which is to recreate the burrows into which the snakes would retreat whilst this process takes place.

The bluish white hue is created by a milky substance that builds up between the layers of new and old skin, this also affects eye sight. Snakes have a fixed eye scale called the brille. This ocular scale is part of the shed skin so the milky substrate seriously affect accuracy and recognition for hunting and evading predation. Because of this heightened threat to life many snakes will hole up during this process. Many also as a result will forgo food in captivity. It is generally accepted that once the keeper recognizes the shedding process beginning that it should be left to it's own devices. The shedding process may make your snake of shorter temper than usual and this should be bore in mind.

From beginning to end, the beginning being the dulling and subsequent build up of 'milk' to the actual act of shedding of the skin this process can take from 7-14 days. Worthy of note is the skin will clear in the 24 hours prior to shedding and on occasion one could be forgiven for thinking the snake has already shed and you go looking for a skin that is not yet there.

Keeping records:

The advice network you use (specialist pet centres, breeders and vets etc) need a way of quantifying how your snake has been doing. It is important to maintain record not only for you to assess development but invariably the people you seek advice from will ask:
• "When did it last feed?"
• "When did it last shed?"

Below is an example record, try creating your own for your snake. If your snake is for your child this can be part of the responsibility that has to be shown for owning the snake.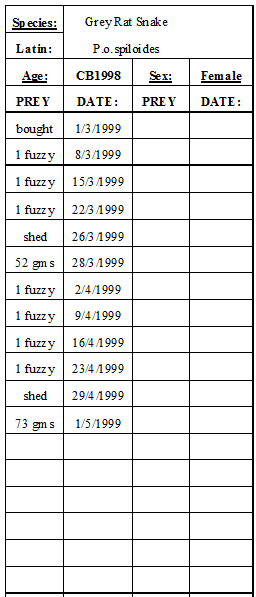 Recording weight can also be important as a marker for growth and development.

Once a snake has fed it can sit heavy in the stomach. It can be uncomfortable for them, it is best to avoid holding a snake for a period of 48 hours after eating. To do so may result in regurgitation. Regurgitation seriously irritates the oesophageal tract and stomach lining.If fed too soon after regurgitation we can create a syndrome which causes further regurgitations. If the snake begins to regurgitate repeatedly it is often advised to give them a break from food to allow the tract to heal. A period of 4-6 weeks without food should suffice. Regurgitation can also occur when too large a meal is given or as a result of erroneous temperatures within the enclosure.
If a decision is made that we want to increase the food size in the belief that the snake is now capable of taking that size it can be pertinent to use the existing size of prey but 'doubling up' (one prey item immediately after another). A snake that is still satisfied by a single prey item may refuse the second prey item. If we offer the larger size prey straight away and it is too big this can lead to aborted feeding efforts, regurgitation or choking. Allow a snake to double up for 3-4 feeds before moving up to a single animal of the larger size. This technique may be less necessary with larger prey items but will be very useful for the jumps from pinky mouse to fuzzy to small mouse respectively.