Understanding what elements of information you need and what you need to discard as a beginner snake keeper can be a frustrating time. The same way a new martial arts student must understand the basic fundamental building blocks before learning the 'moves'. Even Daniel-San wasn't let loose with the crane kick by Mr Miyagi until the end of The Karate Kid. Keeping snakes as pets is much the same. Before we can get to the cool stuff, the snakes themselves and their own little qualities specific to them, we first need to make you aware of factors relating to their care. This section is true to all snakes and applies across the board. The aim of the website is to make you aware of enough to make you comfortable to keep a snake without becoming too complex as to bamboozle you. It is all too easy to set out with the intent of learning everything! only find yourself confused or at logger heads with other posters on a group with the same mission. Put simply as a beginner there are things you need to know.

There are also things that may become useful later as a more experienced keeper. Then there is the stuff that just is fluff and garnish and not really of any applicable value. The limit to information retention and blowing of one's mind is a possibility. Here we hope to have removed those confusing elements for you and made the transition from a normal person into one of us! It's a brave new world people.

Right so first things first, snakes can't do anything for themselves in captivity. You essentially are playing god in this relationship. You provide the enclosure in which it lives. You provide the heat, the light, the water, the bedding, the hides and logs, the plants and the food. They are going to be relying on you for all this. Thankfully snakes are tough and whilst you are learning the ropes we have made some recommendations about species that can and will forgive you if things don't always run exactly to plan. This we call hardiness. This quality is essential in any snake you are wanting to work with. We are not all perfect snake keepers straight out of the box and sometimes we need to change bits and pieces of our care to get it just so. While you are getting used to making sure you provide all these elements of care for your pet we would not want it falling ill due to something we may have temporarily forgotten. The snakes chosen for you in this book represent some of the toughest snakes when it comes to keeper mistakes. We don't want to encourage mistakes but it would be foolhardy to keep a delicate snake species as a first pet as this is the period when mistakes are most likely to be made.

Most of the snakes with few exceptions are from temperate regions. This means that they have quite a developed winter. Usually the leaves will fall from the trees and at some point of the year we may expect mild frost or in some cases snow. The animals that can then naturally fluctuate from summer temperature of 30-32°c down to a frigid 5-8 °c in repurposed mammal burrows or ones of their own construction; are the animals most likely to survive temperature malfunctions in captivity. Animals from within the tropics would not experience such volatile winters and therefore would be considered less hardy as a result. The least hardy would be those from equatorial regions where temperatures are stable pretty much year round. We can consider this an animal's temperature bandwidth. Day time high in summer is our upper number, and night time low in winter is our lower. Bigger the bandwidth the hardier the snake in the broadest terms.

Equatorial Snakes – (Shallow Bandwidth)
Tropical Snakes – (Medium Bandwidth)
Temperate Snakes – (Deep Bandwidth)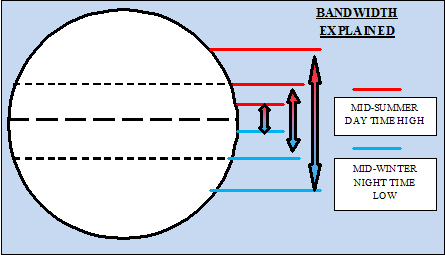 The image above does not show higher temperature in tropical or temperate zones than the Equator. It shows that there is a higher variance between Day Time High (DTH) and Night Time low (NTL) in these Zones.

Whilst the Equator may bask at 33-36 °c during the day at night it may only drop to say 28-29°c At the tropics we would begin to expect a greater drop at night as we radiate away from the Equatorial regions and the most intense of the Sun's rays. So a DTH of between 31-34°c and a NTL of 26-28 °c. As we radiate further away from the Equator into temperate zones the night time drop becomes more pronounced, a DTH of 28-30°c and a NTL of 22-26°c. These temperatures are quoted on a single 24 hour cycle. When we involve a full year the picture becomes progressively more volatile the further we move away from the Equator.

Temperatures will remain relatively buoyant in this region with Summer DTH and Winter NTL only being single digits apart in certain regions. Tropical regions May reduce as low as 18-24°c mid winter but the biggest drops are going to occur in temperate regions. Temperatures during the prolonged and potentially deep winter may drop as low as 3-5 °c in hibernaculum (where the animals sleep during winter – burrows, composting heaps etc). It is this ability to continue existence even at these extreme temperatures that marks these species out as the hardiest of snakes. Their ability to adapt to the volatile potentially inclement climes North and South of the Tropics makes these particularly tough snakes. Which makes them perfect beginner snake material. Snakes from these temperate regions make up the bulk of selected species here. There are one or two exceptions but for the most part we want snakes that can forgive you if we get things wrong.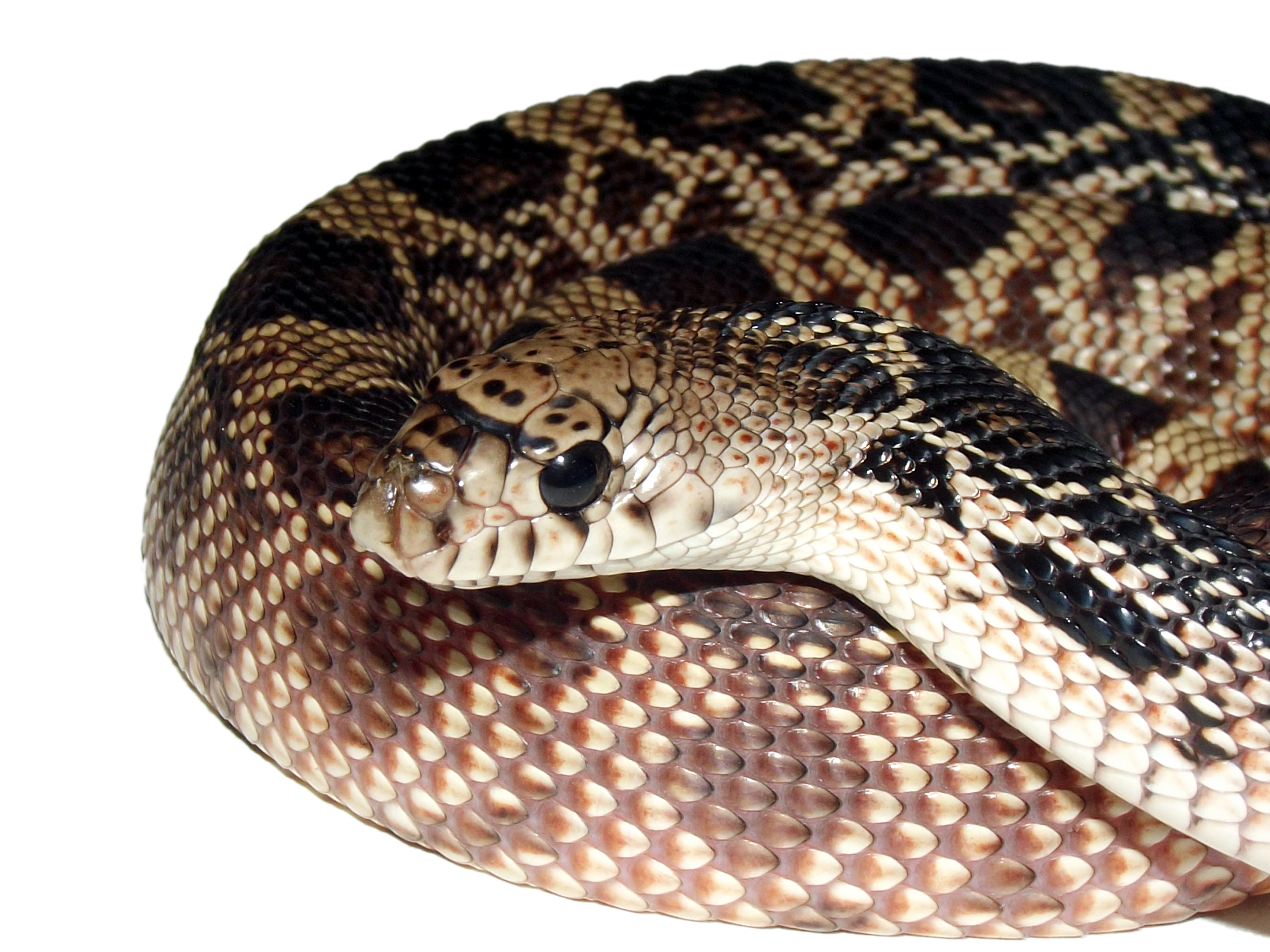 Northern Pine Snake (Pitruophis melanoleucus melanoleucus)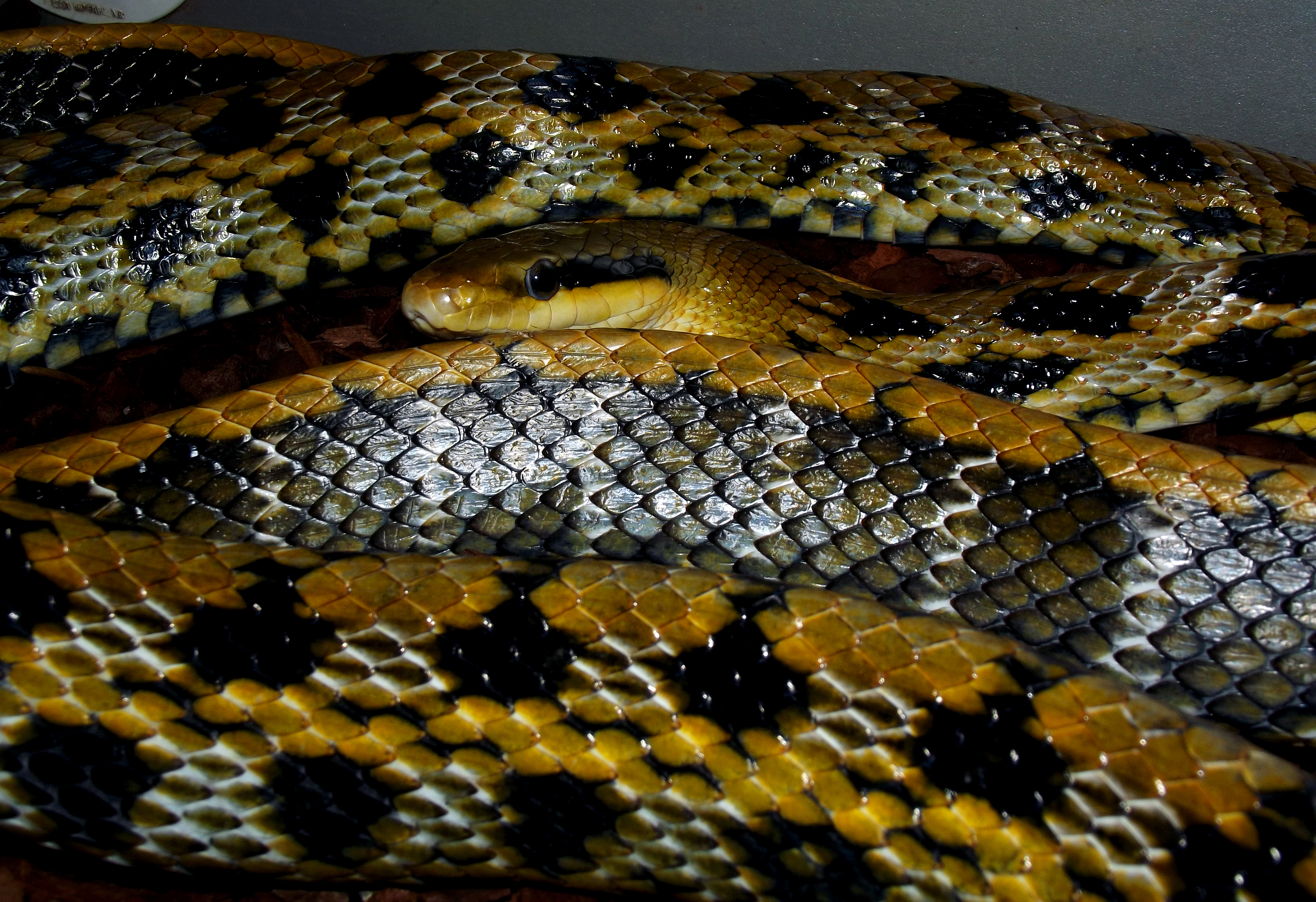 Taiwan Beauty Snake (Orthriophis taenuirus freisei)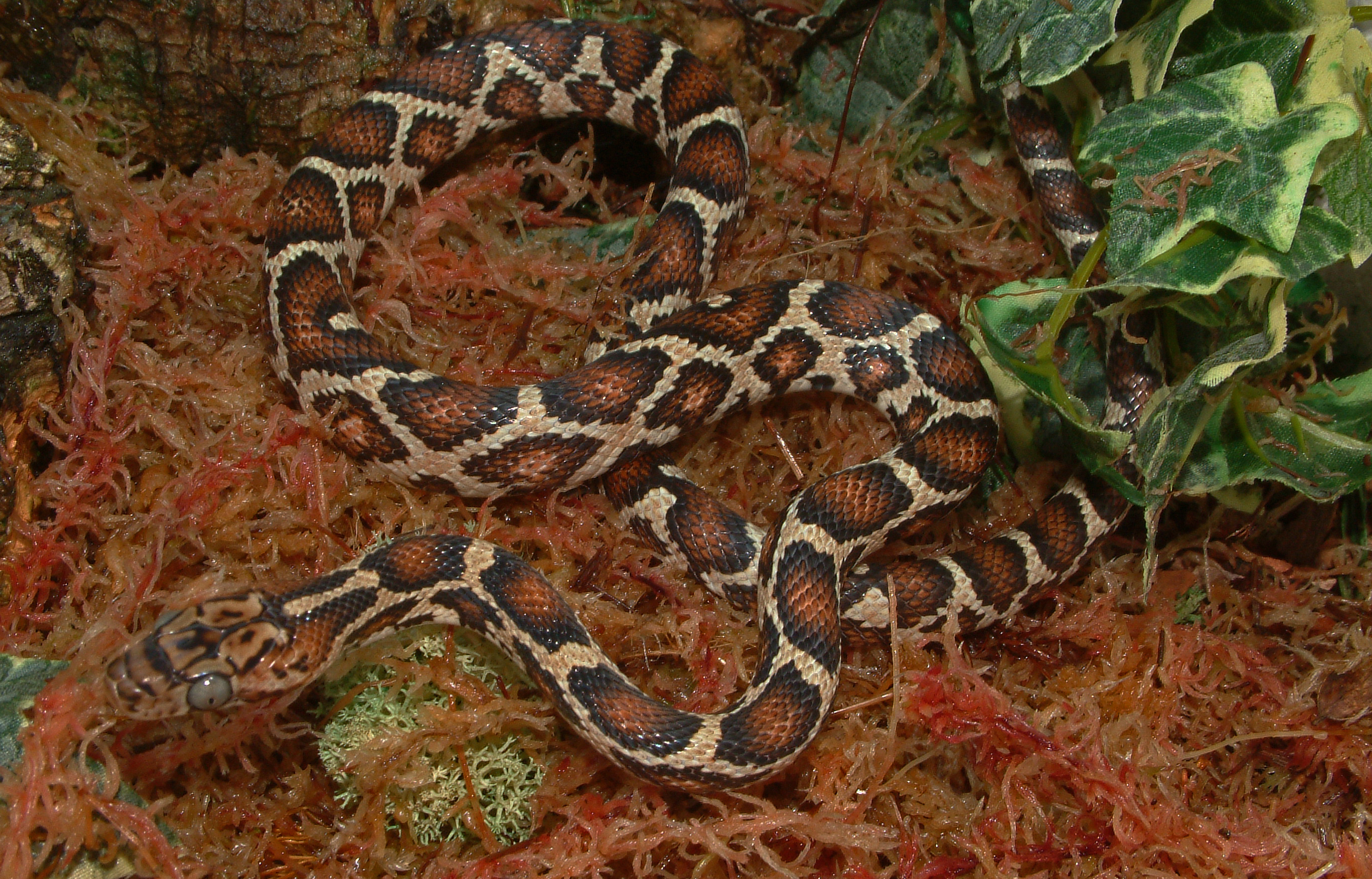 Mexican Night Snake (Pseudoelaphe flavirufa flavirufa)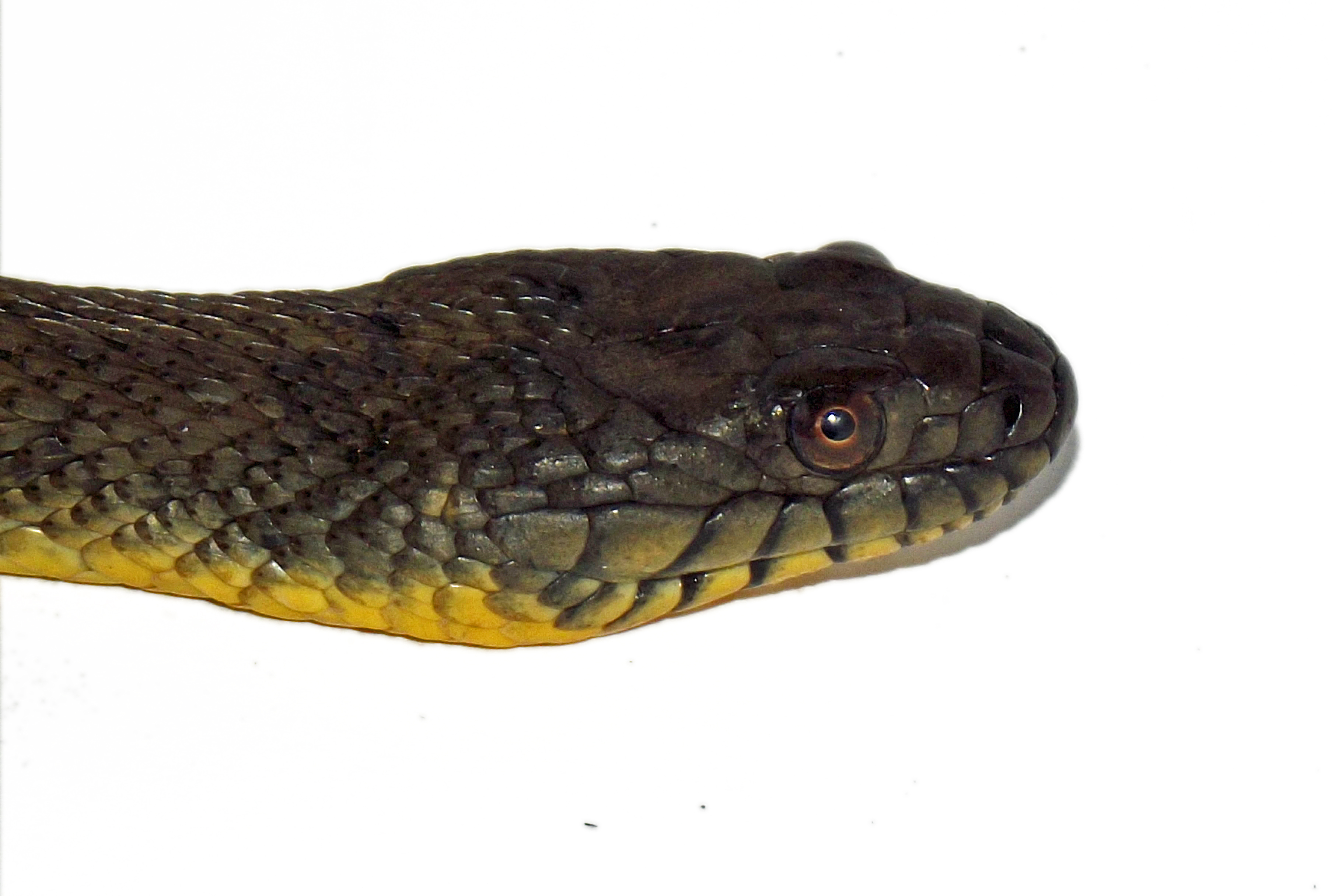 Diamond Back Water Snake (Nerodia rhombifer)

This may seem serious but panic not. The advent of control systems for our snakes called thermostats make life so much easier. We can iron out any temperature kinks fairly easily and offer some much needed control on the vivarium. For previous generations of keepers this has been much more perilous as thermostatic control was not readily available or widely used. We understand far more about these animals now than back then and the control systems vary in complexity and range in value so people on a wide range of budgets can still have the safety net a thermostat provides for their snake.

So now we begin, together, laying out the basic principles and ideas you will need to understand these wonderful creatures. You can look forward to a relationship that will blossom as your pet grows and could last well in excess of two decades.

Welcome to Snake Keeping Welcome to herpetoculture.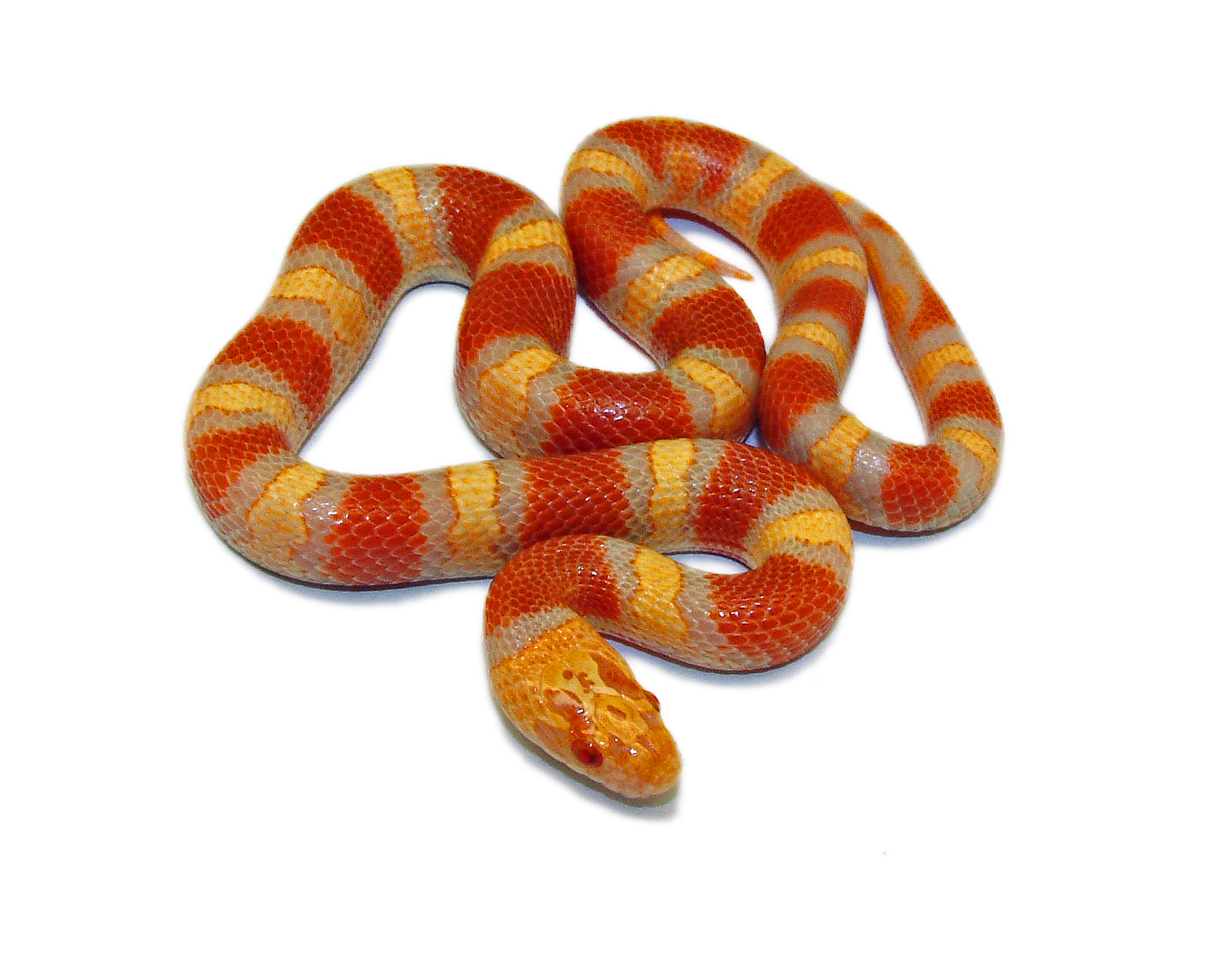 Albino Queretaro King Snake (Lampropeltis ruthveni)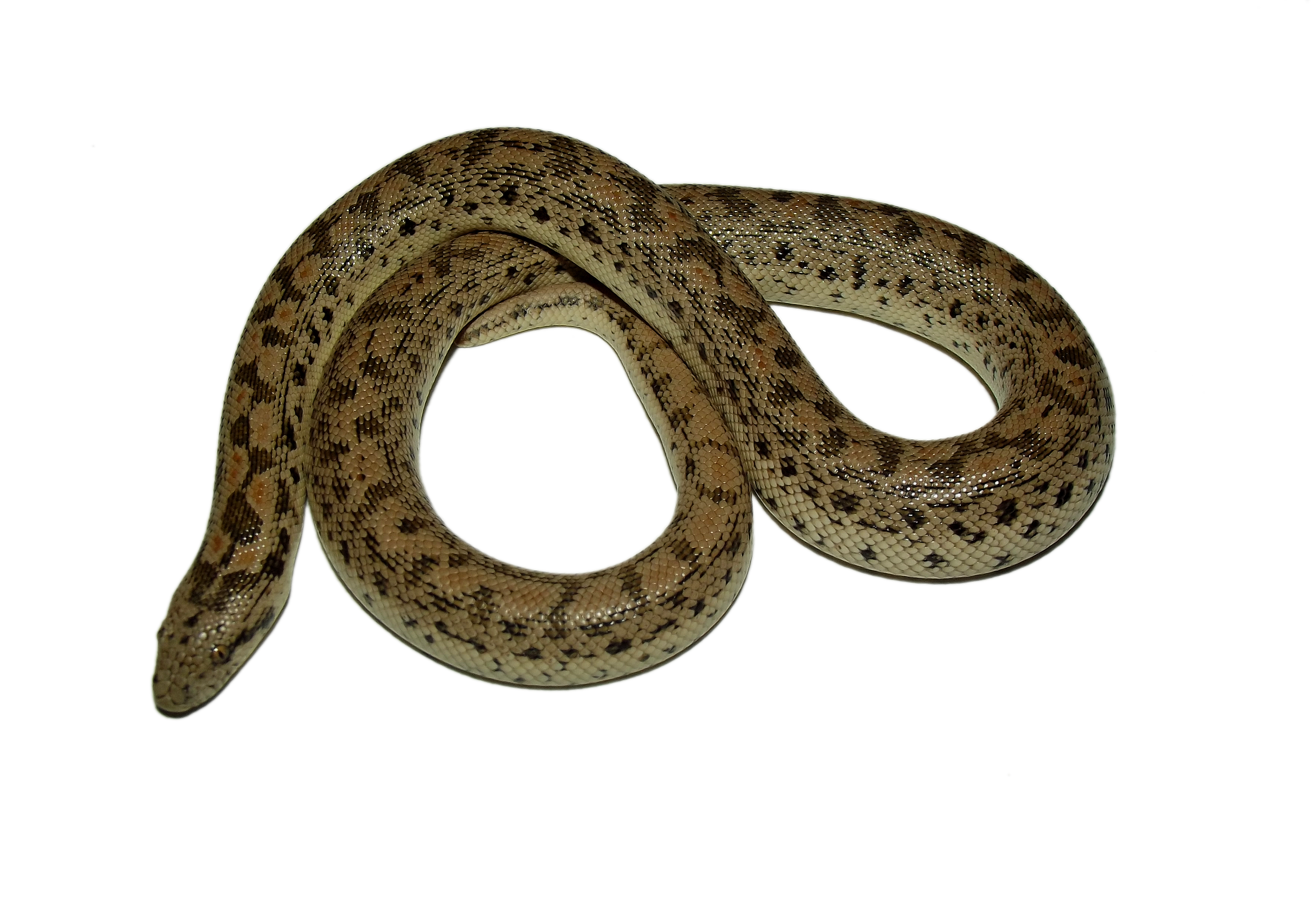 Tartar Sand Boa (Eryx tartaricus)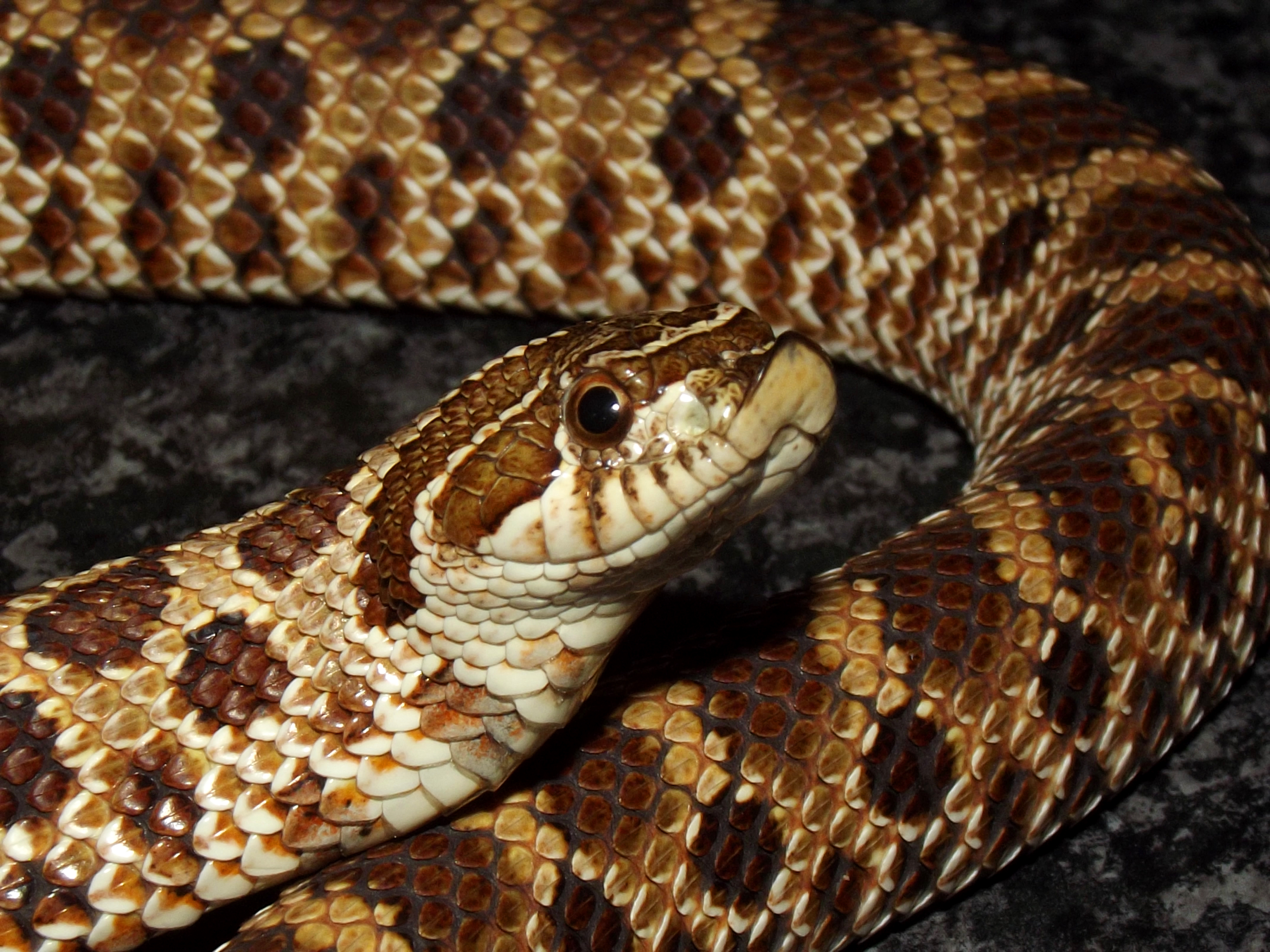 Western Hog Nose Snake (Heterodon nacius nacius)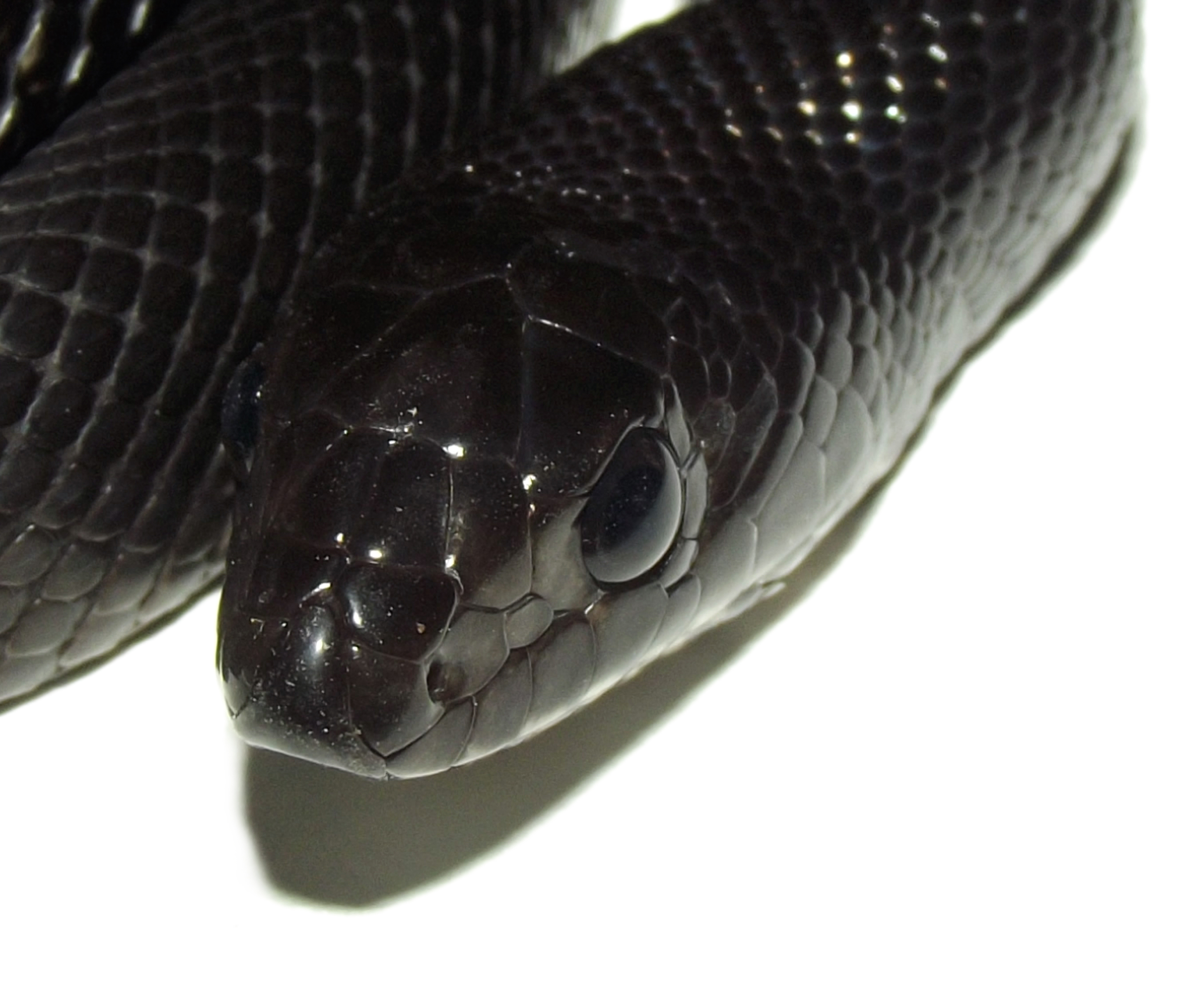 Black Pine Snake (Pituophis melanoleucus londingi)

It can be hard to know where to begin. There is so much to take in and consider we find usually the best course of action is to start with nature. The reason being, it tells us everything we need to know. As long as we know an animal's country or origin we can often times fill in a lot of blanks. We can consult climate graphs for that country which are readily available online and these will provide essential data on day time high, night time low, rainfall (humidity) and day length etc. It can inform us about biome or microhabitat of a region associated with that snake. This will give us clues on how to approach the setting up of the enclosure for the animal to feel most at home. What kind of substrate should be used? Should we provide a large water container? How many hides should be used? What material for décor is most suitable? Often times these requirements overlap with many species of snake and therefore rudimentary basic decisions can be made about style of enclosure and husbandry offered.

Husbandry type:

Traditionally three styles of care exist. All three have proven to be successful to different people for very different reasons. What is easiest is not always what is best. A keeper must decide which husbandry type best suits them and can be applied in an ethical manner to their animals.

Simplistic / Sterile Style husbandry:

This type of enclosure is most commonly encountered in the form of racking systems. Racking systems gained popularity during the late 1990's through to present day.

Large scale industrial breeders wanted to keep more animals than vivarium stacks would allow and so in an effort to maximize the amounts of snakes kept per sq ft racking systems were developed. These were either transparent or opaque containers (sometimes with lids other times without but with a close fitting mesh ceiling to the box instead). They were arranged vertically and usually measured in litres of volume. 25 litre boxes, 33 litre boxes and so on. During this developmental early stage a sort of perfect storm occurred. A revolution in social media and self broadcast videos on platforms such as YouTube and Vimeo created celebrity status for larger scale breeders. At the same time a hither too never before seen genetics 'explosion' occurred with a species considered here, the Royal or Ball Python (Python regius)

New morphs were occurring naturally in Ghana and people were clamouring to get hold of these wondrous new morphs. What these big investor breeders also discovered was that by crossing the animals new 'combos' could be created. So the race for world's first animals was born. This then led to even more racks, to even more videos, to even more perceived success. The rest as they say was history. Racking systems are now not going away, many keepers opt to use them and display a staggering ability to get animals to breed within them. Because of the discovery that Royal Pythons would happily reproduce in these industrial style enclosures no one stopped to question whether it was right or wrong, simply that it worked. Since their inception and spread to the greater reptile keeping masses, many species are kept in rack systems nowadays. Substrate is usually newspaper or kitchen towel, hides may or may not be provided and a water bowl is present. Because of the simplicity of this style an enclosure can be stripped, sprayed, scrubbed, wiped and re set up in a matter of seconds. It is this undeniable efficiency that has given rise to their popularity within the hobby.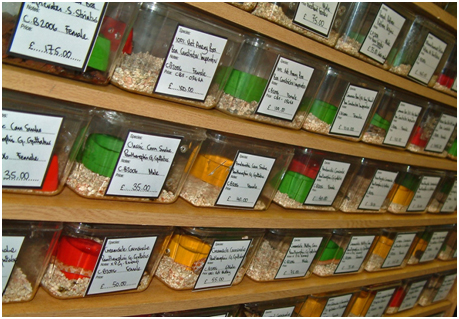 Left: An example of a rack system in use.

Here the application is a shop where may examples of different species of snakes are kept and offered for sale. To avoid transmission of disease the specimens are maintained separately. The husbandry is basic to maximise efficiency as large numbers are usually present along with the ad ult stock within the vivariums of the shop. Because of the constantly changing stock levels and species kept enclosures must be easily disinfected and turned around for the next inhabitant. This would be considered temporary care and it would be hard to recommend this style as a form of long term practice.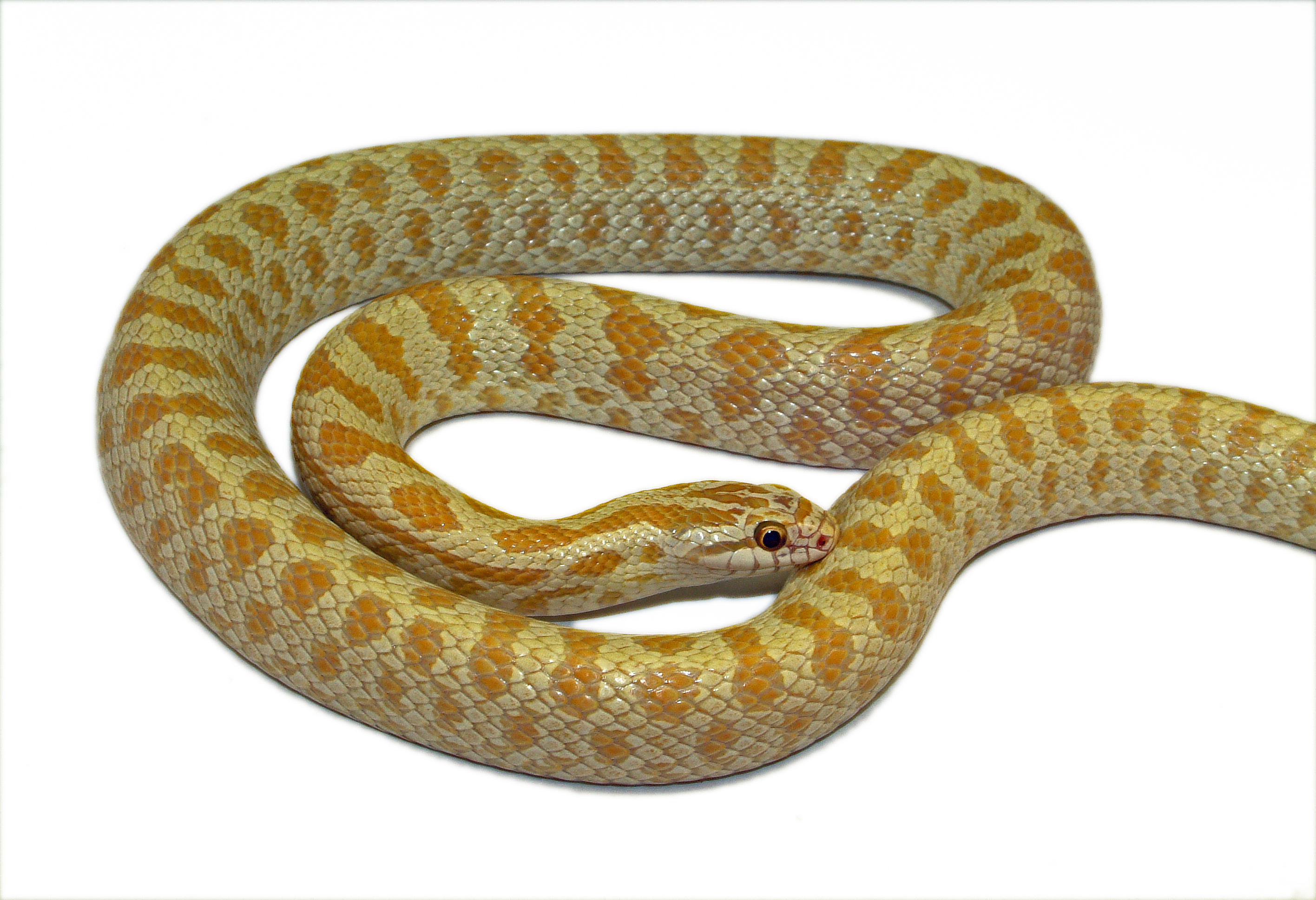 Albino Prairie King Snake (Lampropeltis calligaster)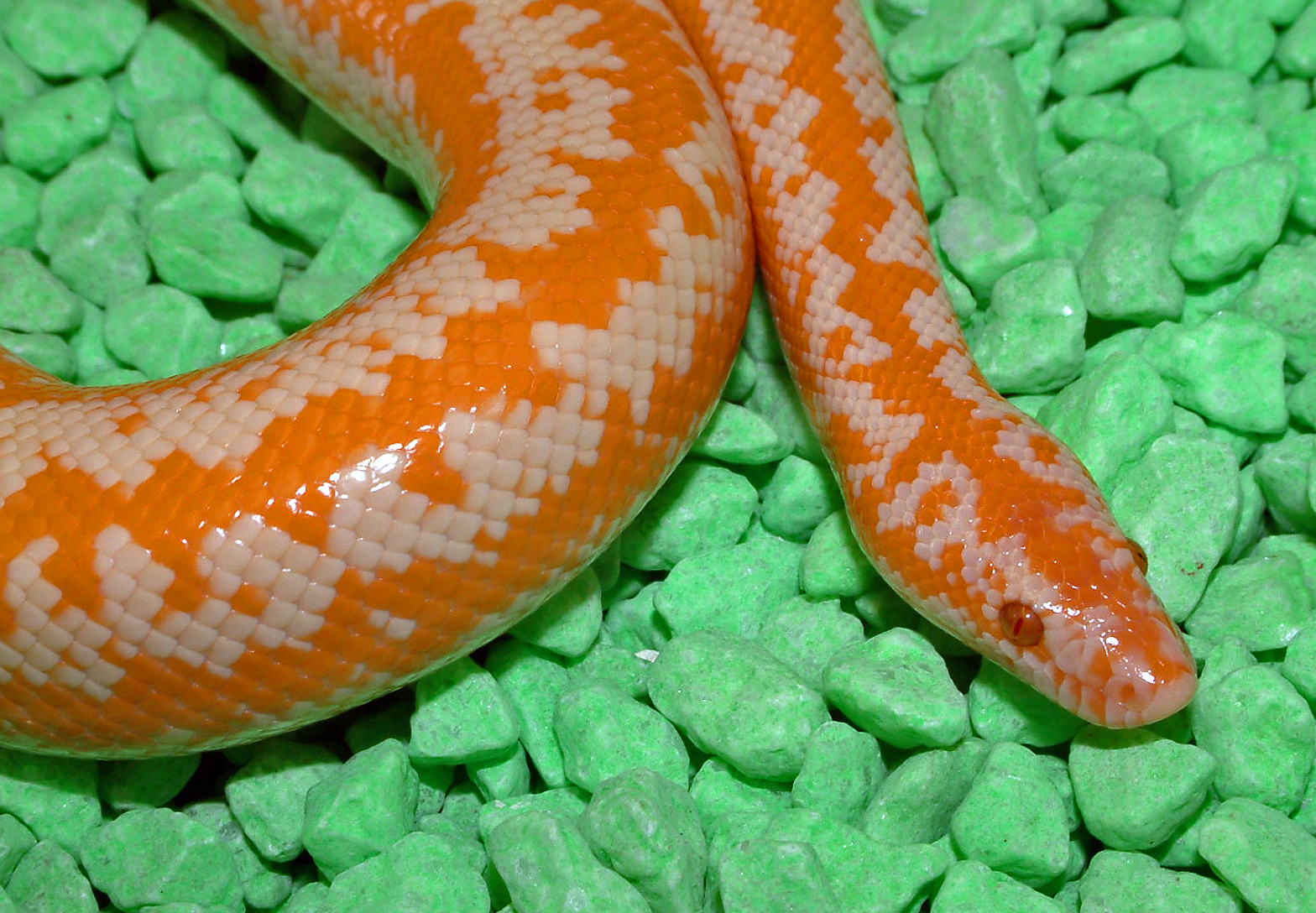 Albino Coastal Rosy Boa (Lichanura trivirigata roseofusca)

Bio-Active and or Naturalistic Husbandry:

Another massive growth sector within the hobby is the use of 'naturalistic' vivarium setups including natural soils, sands, clays and hydration media to try and recreate sweeping natural landscapes. Branches, limbs, stumps, stones and slabs are used to create natural hideaways and visual obstacles to help inhabitants feel safe and secure. Sometimes live plants are used and help to raise or maintain humidity and again provide cover for the animals. In bio-active enclosures isopods are used to help turn over the soil, leaf litter, urate (snake urine) and faecal material. In time a mature tank can become a self balancing system although frankly this is easier said than done. Usually there is the requirement of a large lead time to setting a vivarium of this style up before the snakes are introduced.

Logs and limbs particularly have to go through a mould process or maturation process which may include fur, mould spores or mushrooms being present for a while before abating. Bio-active enclosures are most commonly used for sub-tropical and tropical rigs but bio-active arid and semi-arid enclosures can also be created.

Many manufacturers have capitalized on this burgeoning sector of the hobby with a range of products to help get this type of enclosure up and running.

Right: An example of a fully bio active enclosure.

These are complex undertakings which take a lot of planning to get right. Before animals can be introduced to such an enclosure type a considerable amount of lead time will be required to allow the plants to adequately root and become secure. Logs and branches will need to mature and more than likely go through a mould process. Isopod cultures used as a cleanup crew will need to be added.

Any issues with plants or disease to the living foliage will need to be remedied prior to introduction of your animal.

The shade loving tropical plants such as ferns, bromeliads and Devil's Ivy seem to establish best in these styles of enclosures. Arid and montane planted enclosures are more complex undertaking due to specific requirements of the plants. Photograph by Danny Craig.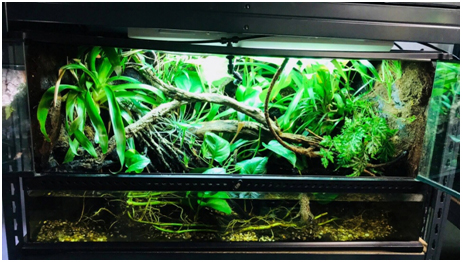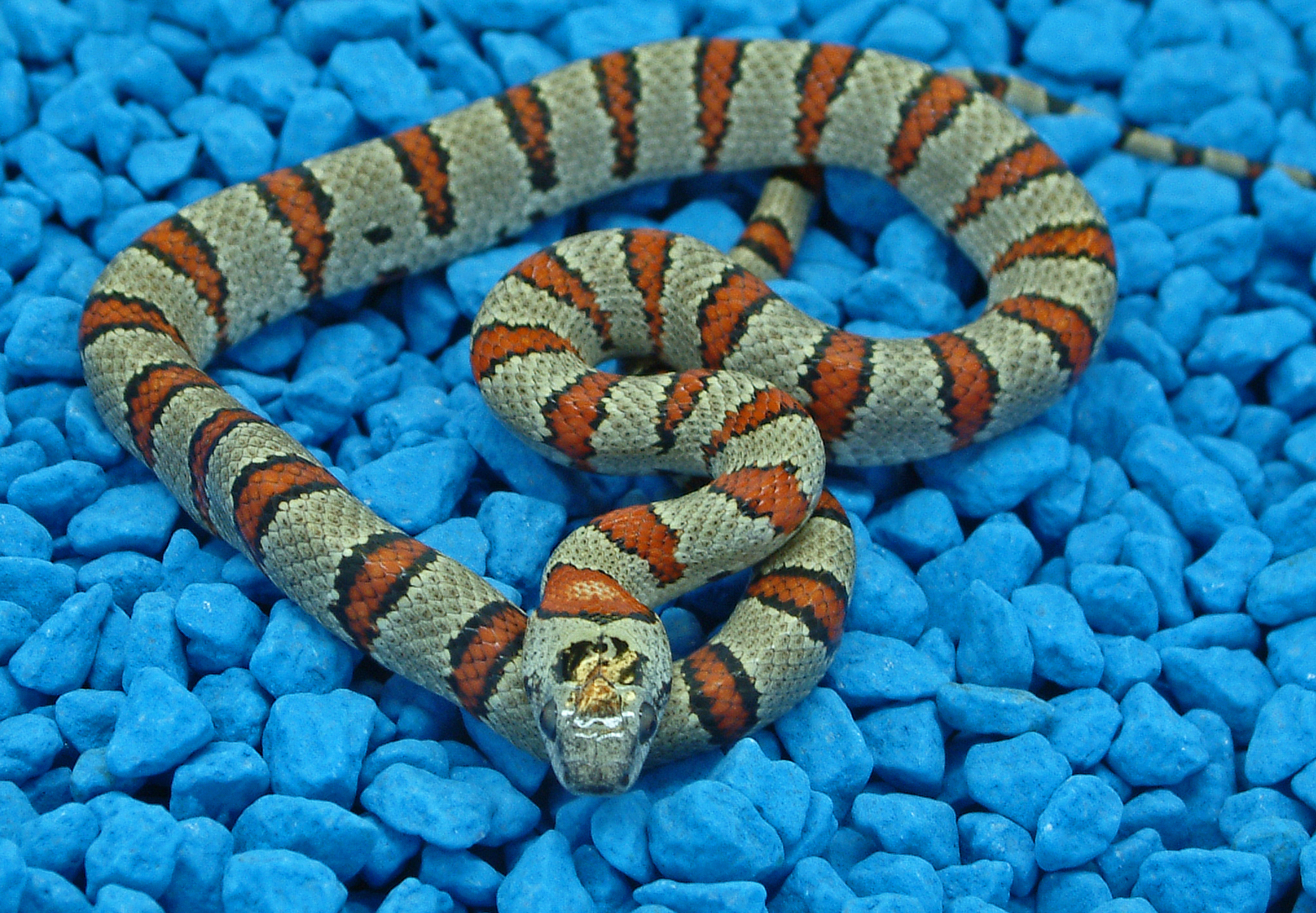 Grey Banded King Snake (Lampropletis alterna)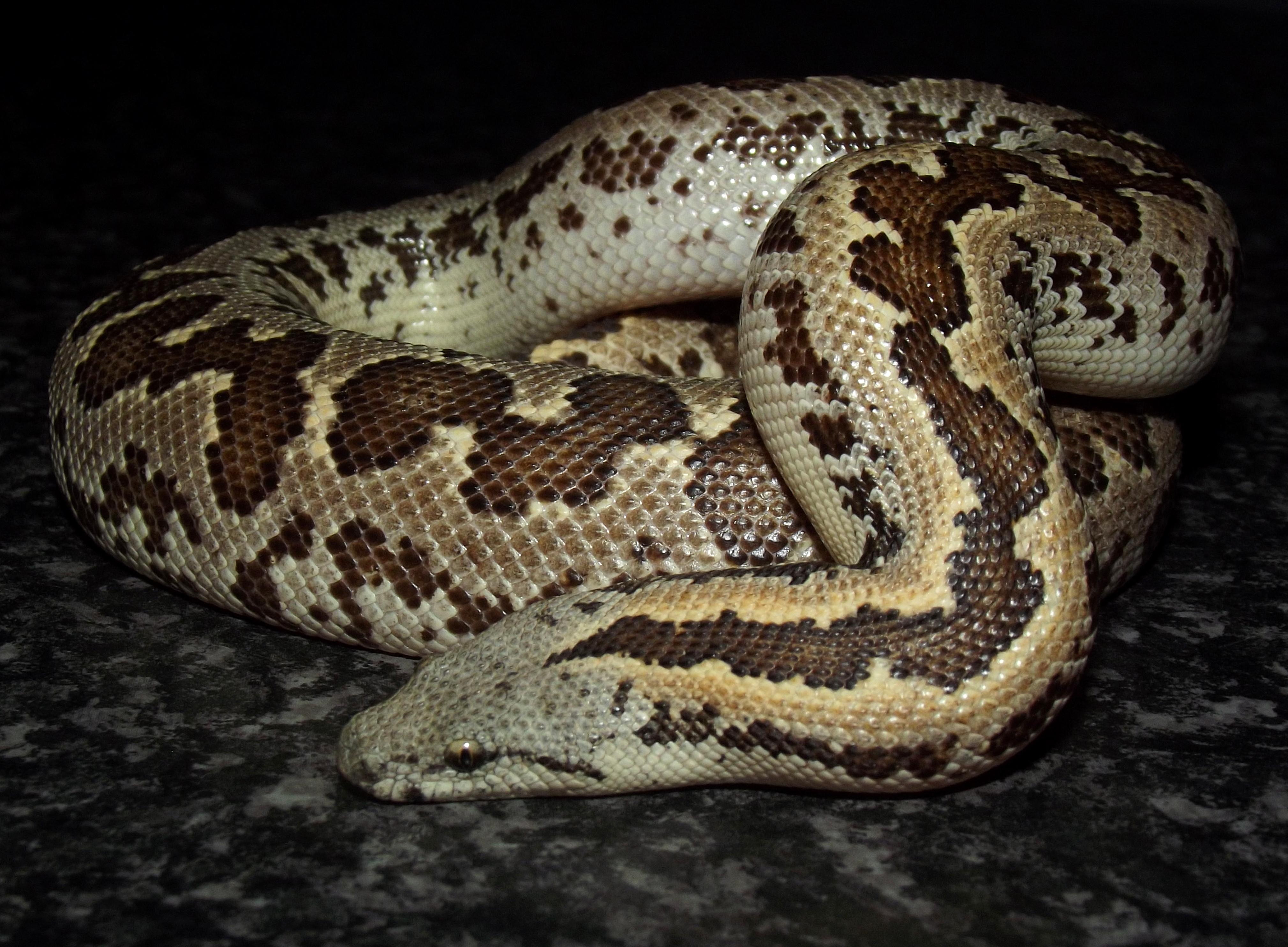 Rough Scaled Sand Boa (Gongylophis conicus)


Pseudo-Naturalistic:

Traditionally what a lot of keepers have been doing for years. This involves using a variety of substrates and décor including resin caves and cork branches, shafts and arches to help the snake feel safe and secure. Fruit tree limbs and branches of deciduous trees are also utilized once cleaned thoroughly. Foliage provision is provided by artificial plastic or silk plants. Whilst they can be visually striking they do not have the natural brilliance of a Bio-active tank but they also don't carry the work load either.

We don't need to mature this style of enclosure and the complexity of the setup can run the gamut from almost as stripped back as a sterile style enclosure to almost as busy as a Bio-Active enclosure. This style lends itself to most keepers. It has the aesthetic appeal of Bio-Active without the rigmarole involved and can be stripped and cleaned within minutes if necessary.

Right: An example of a pseudo-naturalistic enclosure.

Here the owner has used multiple fake plants both made in silk and plastic to great effect. Wood has been collected and cleaned to be used as boughs for these semi-arboreal snakes (Scrub Pythons – Simalia sp). The substrate of choice may will be a loose chipping, coco fibre, cyprus mulch or similar. This can all be fully stripped out periodically throughout the year and replaced. Equally should the plants become soiled these too can be removed and cleaned thoroughly. Pseudo-naturalistic enclosures seem to offer the novice the best of both worlds when it comes to the novice. The possibility of breaking the tank down relatively quickly for maintenance whilst still also having aesthetic appeal.

Photograph by Laurence Kenchington at LARK Pythons.

Baird's Rat Snake (Pantherophis bairdi)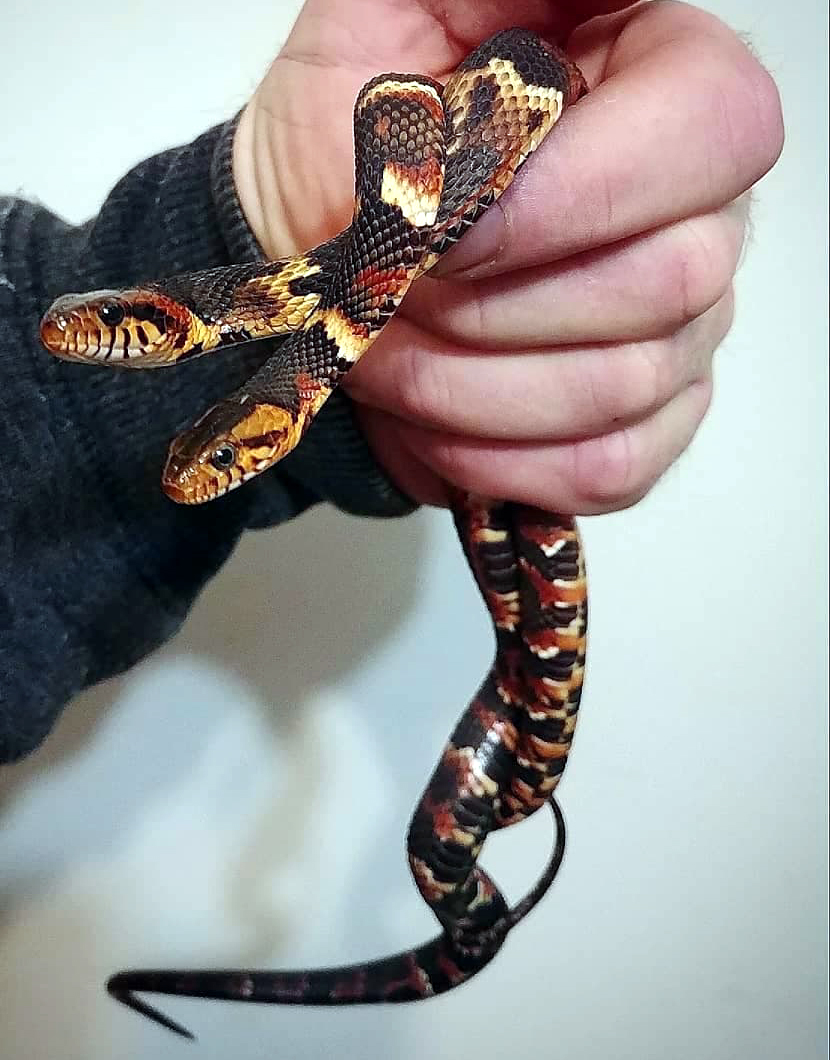 Broad Banded Water Snake (Nerodia fasciata confluens)
©Matthew Dove
In Conclusion:

As a beginner keeper just starting out in reptile keeping it is difficult to make a strong argument to advocate either of the first two styles of husbandry. The Simplistic / Sterile style was utilized by a mandate to keep more reptiles and be able to tend to their most basic needs and cleanliness with haste. The Bio-Active style occurred through a desire to re-create nature and attempt to create natural balance (homeostasis) on a miniature level.

Neither of these reasons particularly resonate with the beginner. The beginner does not have the workload of a commercial collection to warrant the sterile style nor the prerequisite skills in lighting, botany and terrascaping required for bioactive. With Pseudo-Naturalistic enclosures you potentially have the best of both worlds. Ultimately it is your decision which way you decide to go. People have experienced success with all three styles.

Creating the climate:

So snakes as with all reptiles are cold blooded (poikilothermic) , even the temperate snakes we will look at as beginner species will require additional heating. Whatever heating we provide we must be in control. The accuracy of the control systems we can use varies wildly.

Depending on your animals region of origin and therefore bandwidth dictates whether one control system must be used over another. Remember animals with larger bandwidths tolerate a greater variance in temperature control. Not being able to control temperatures accurately in the long term does have its consequences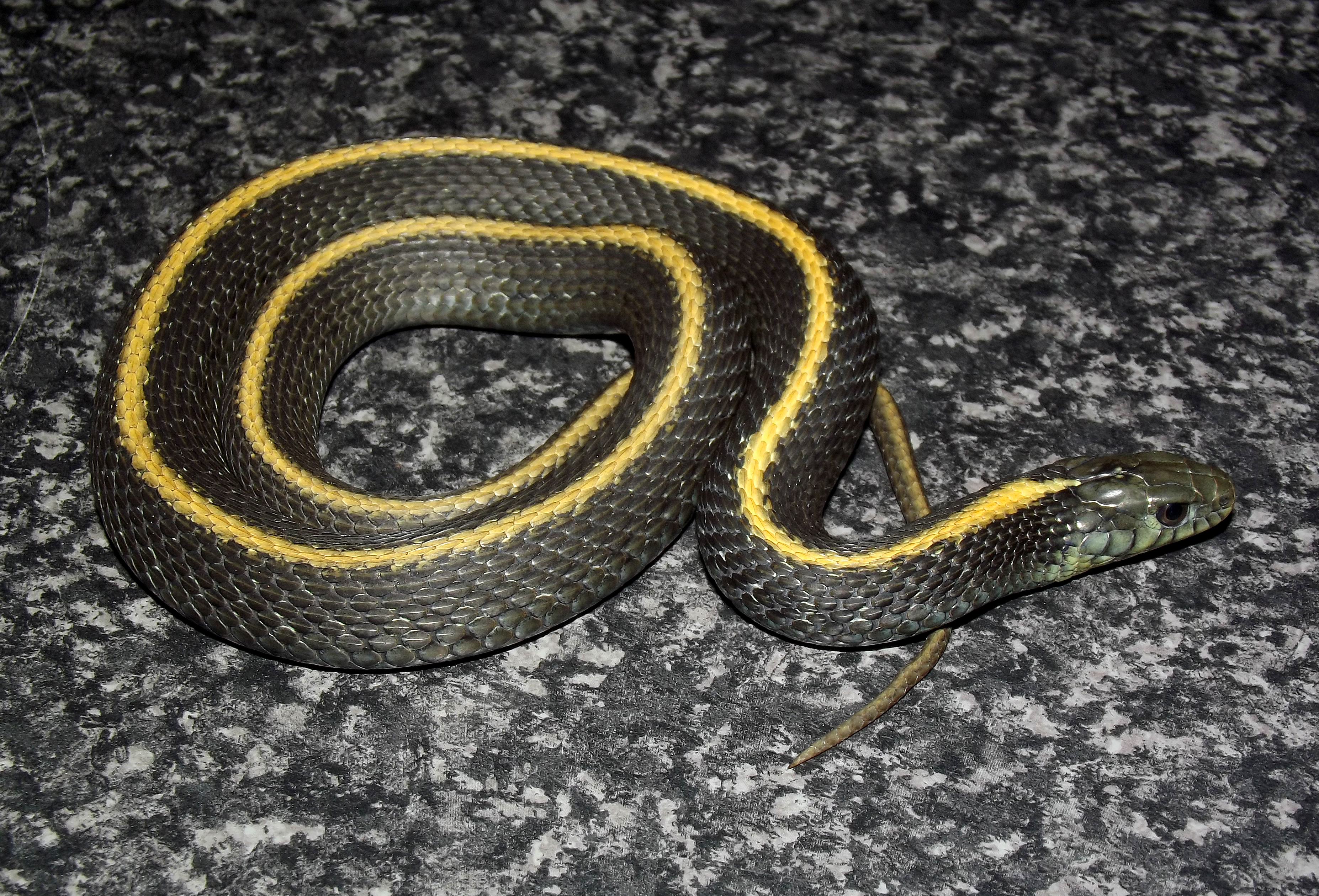 Santa Cruz Garter Snake (Thamnophis atratus)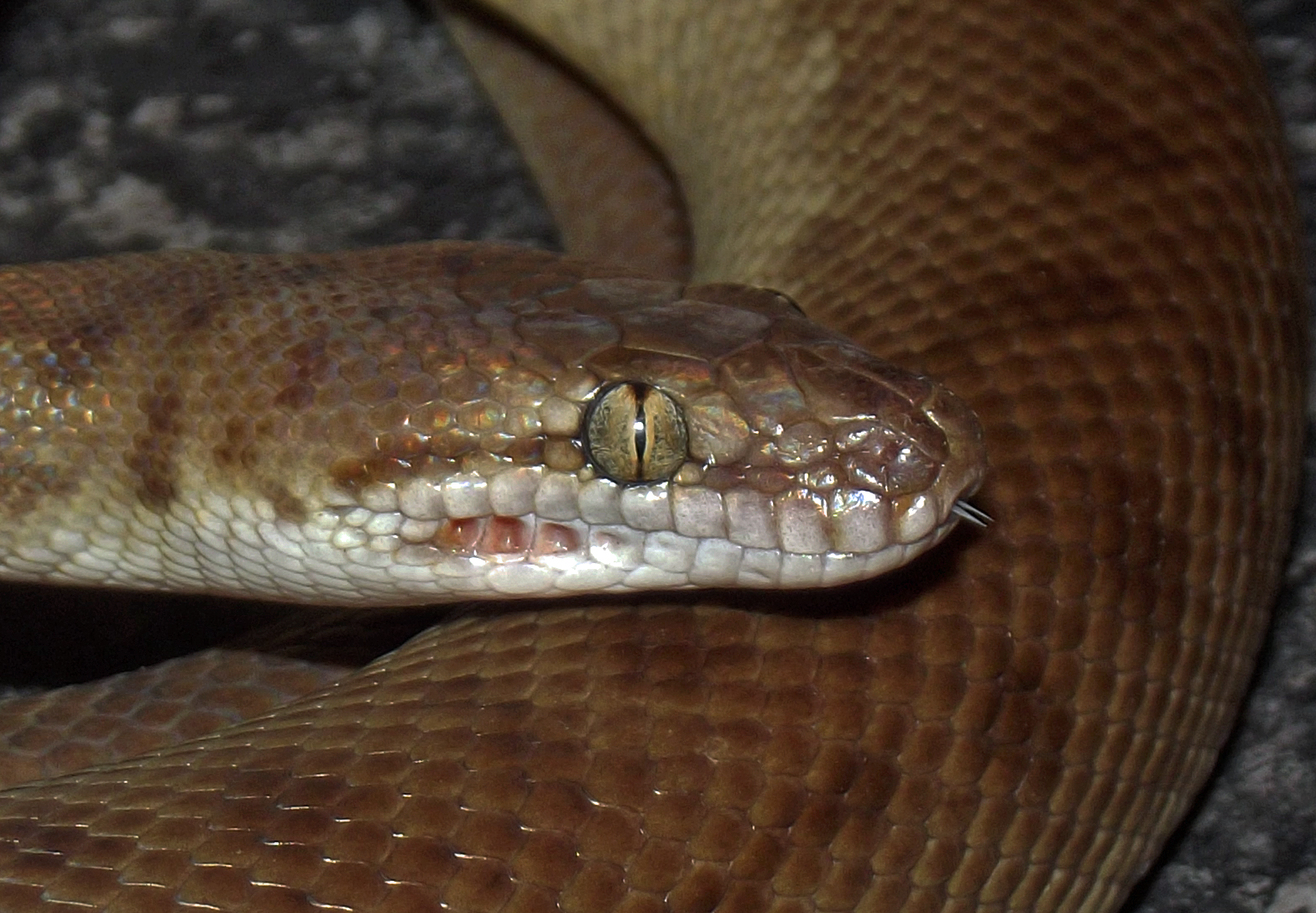 Children's Python (Antaresia childreni)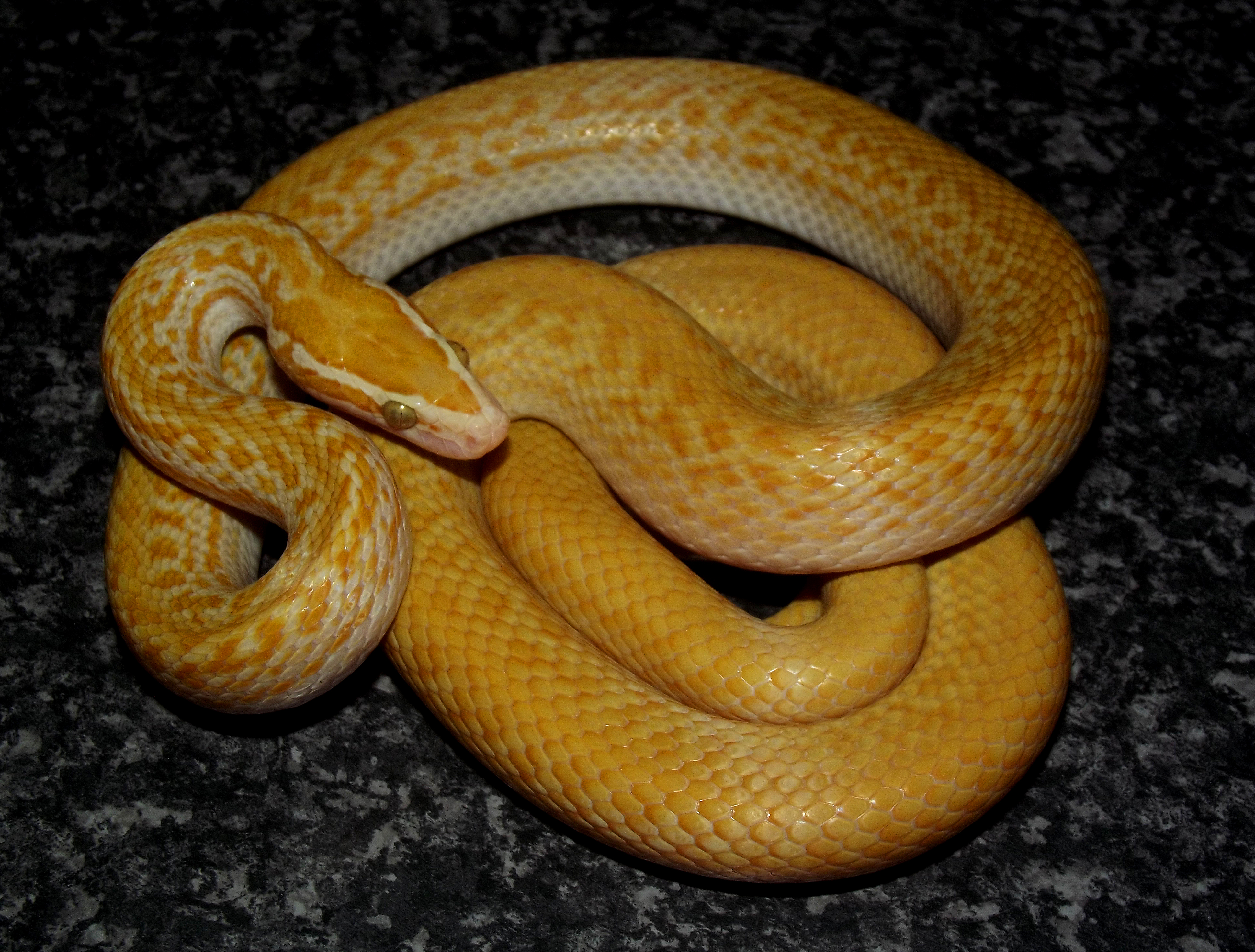 Albino Brown House Snake (Boaedon fulignosus)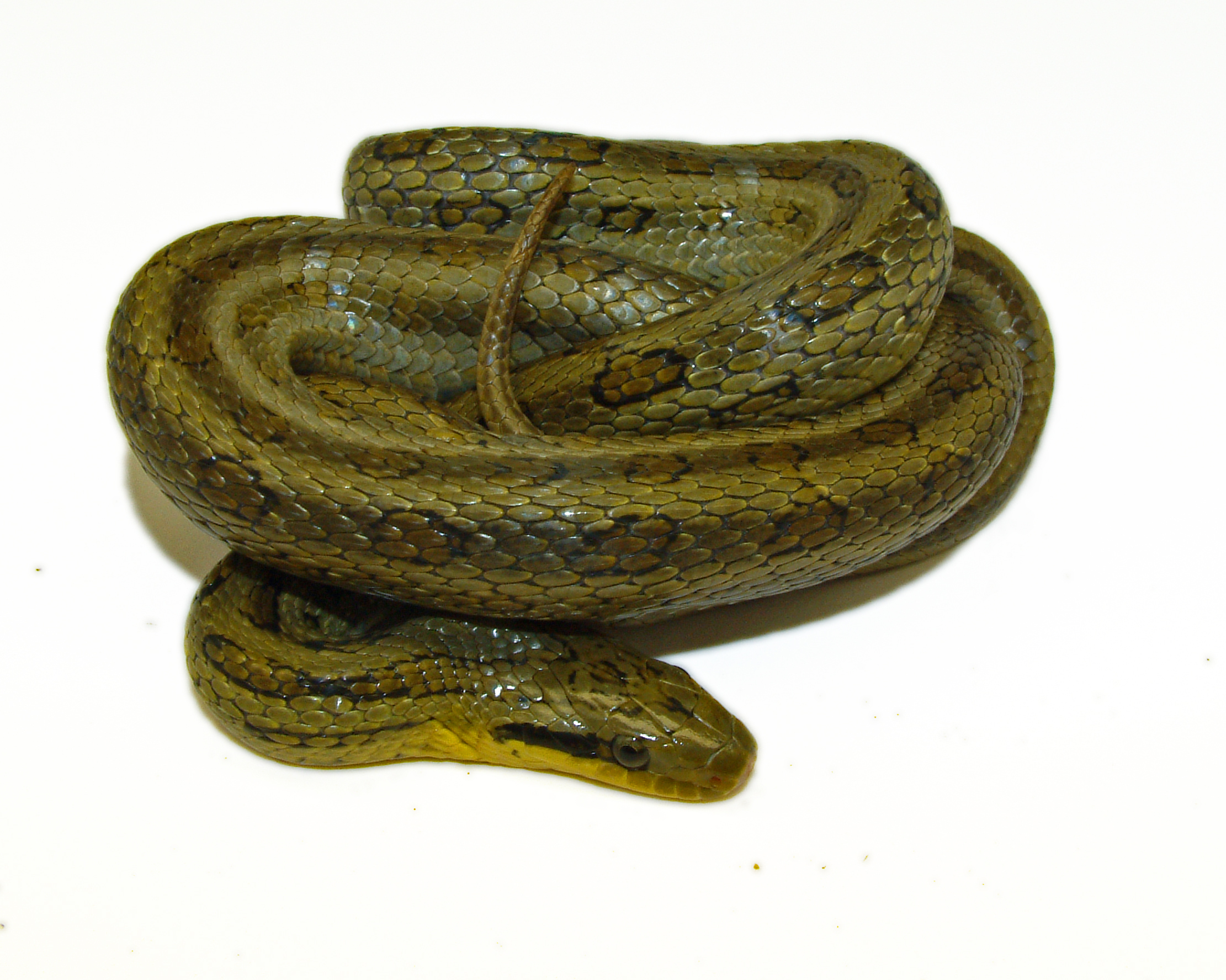 Twin Spotted Rat Snake (Elaphe bimaculata)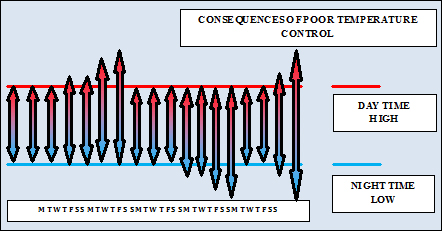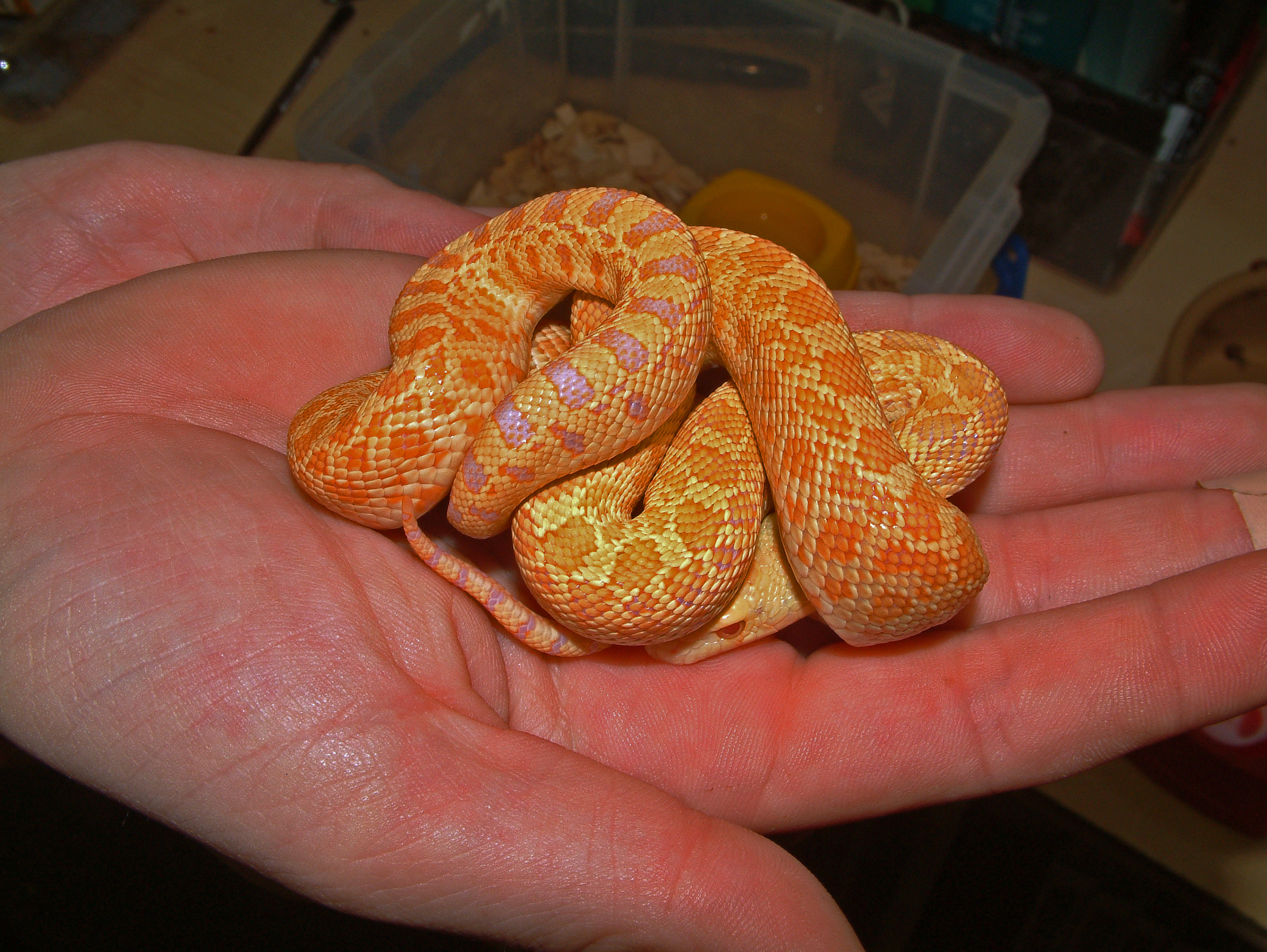 Albino Bull Snake (Pituophis catenifer sayi)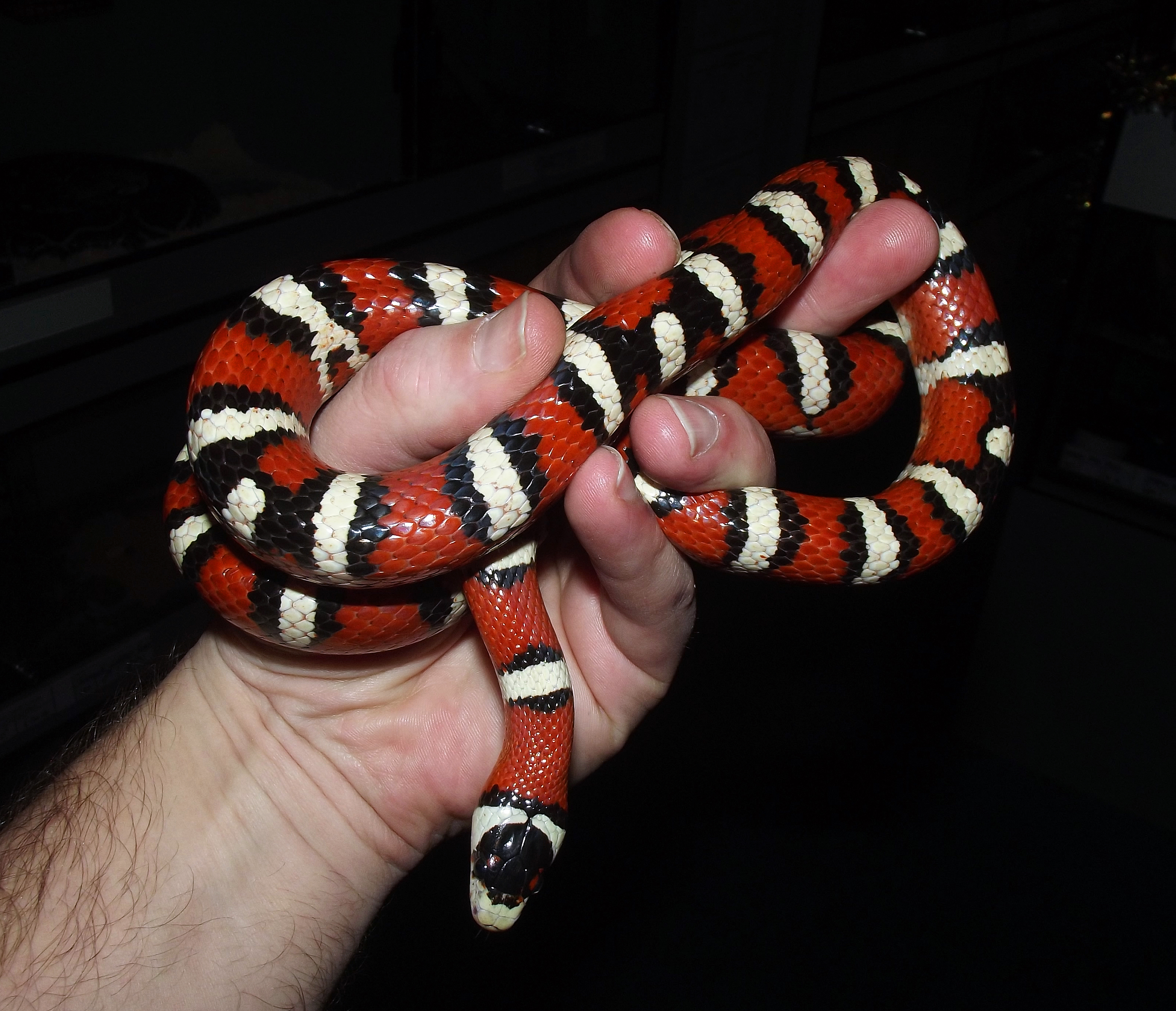 Arizona Mountain King Snake (Lampropeltis pyromelana pyromelana)

Left: In this simplified example we can see efforts over the period of roughly a month to control both the DTH and NTL. Initially all is well but we begin to see aberrant DTH values climbing past where they are supposed to be. What are the consequences of not taking action with more delicate species
• Bad Shed Cycles or Ecdysis
• Dehydration
• Constipation
• Regurgitation
• Heat Exhaustion
• Burns
• Refusal of Food
• Hyper – Activity
• Death
• A combination of all of the above.
We regain control and over the next couple of weeks we begin to see aberrant NTL values descending past where they are supposed to be. What are the consequences of not taking action with more delicate species?
• Upper Respiratory Infection
• Lower Respiratory Infection (more serious)
• Refusal of food
• Regurgitation
• Hypo – Activity
• Death
• A combination of all of the above.
Thankfully we are working with a very hardy group of snakes capable of adapting as necessary until we get our control just right. The temperate snakes will forgive us for husbandry faux-pas. Their tropical and equatorial cousins may not get over our mistakes so easily. The end of the final week and it all going totally wrong are the people that don't use thermostatic control on their enclosures. It is imperative as animal lovers we respect the needs of our captives.

Biome & Habitat:

As well as considering the origin of our snakes North to South working through temperate, tropical and equatorial zones we must also consider the type of environment they inhabit too. Depending upon variables such as cloud cover, tree cover, elevation etc. These factors will also affect temperature behaviours at a local level too.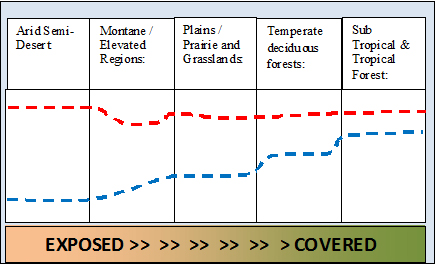 Left: illustrates the greater gap between Day Time High and Night Time Low depending upon exposure or cover available. Depending on cover even areas from within the tropics may display anomalous temperature behavior. It may not be as simple as how far from the Equator the region originates.

Arid Semi-Desert:

No real cloud cover or tree cover. Totally exposed, both to the strength of the sun but also the coolness at night. No insulation of the ground by means of tree or cloud cover. As a result temperatures plummet at night. Last vestiges of heat may come from within the substrate in and of itself.

Species examples:

Kenyan Sand Boa (Gongylophis colubrinus)
Javelin Sand Boa (Eryx jaculus)
Desert Rosy Boa (Lichanura trivirigata roseofusca)

Montane / Elevated Regions:

Because of elevation not as much in the way of scorching temperatures but still very much exposed. Ultraviolet index may be high particularly above cloud level.

Cover and hiding opportunities within rocks and caves (an improvement over arid regions) The rocks absorb heat during the day and can act as radiators at night. Wind chill factor will affect temperatures in exposed areas.

Species examples:

Nuevo Leon King Snake (Lampropeltis leonis)
Grey Banded King Snake (Lampropeltis alterna)
Children's Python (Antaresia childreni)

Plains / Prairie and Grasslands:

Whilst these are exposed areas because of their location further North day time high temperatures not likely to be as extreme as arid regions. Due to lack of tree cover temperatures will often fall away sharply at night. Soft ground good for burrowing makes for excellent cover either from heat or cold. Many snakes will repurpose mammal or tortoise burrows to use as safe refuge.

Species examples:

Bull Snake (Pituophis catenifer sayi)
Great Plains Rat Snake (Pantherophis emoryi)
Plains Garter Snake (Thamnophis radix)

Temperate deciduous forests:

Trees act as both insulator and protector from the cold and heat respectively. Considerable temperature during winter but fallen leaf litter insulates the ground. Root systems and deep burrows used to wait out the winter. Usually a variety of water sources and river courses nearby.

Species examples:

Corn Snakes (Pantherophis guttatus)
Diamond Back Water Snake (Nerodia rhombifer)
Japanese Rat Snakes (Elaphe climacophora)

Sub Tropical & Tropical Forest:

An abundance of cloud cover and tree cover acts as an insulator stabilizing temperatures day and night. As a result night time drops are minimal compared to the other regions. Rainfall levels from cloud cover increases humidity levels. Usually there is an abundance of water sources and river courses nearby.

Species examples:

Spotted Python (Antaresia maculosa)
Royal Python (Python regius)* For part of the year at least.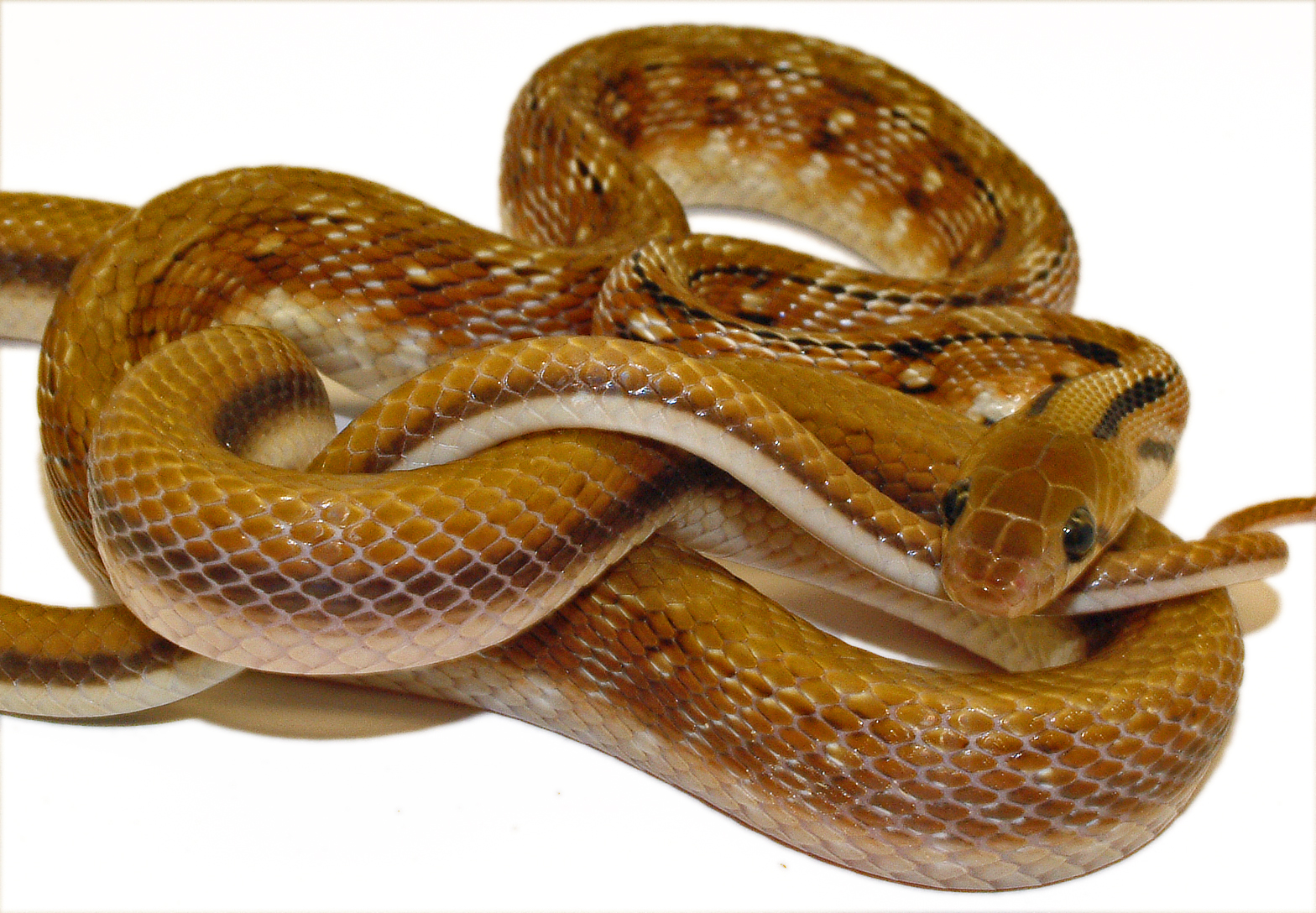 Trinket Snake (Coelgnathus helena)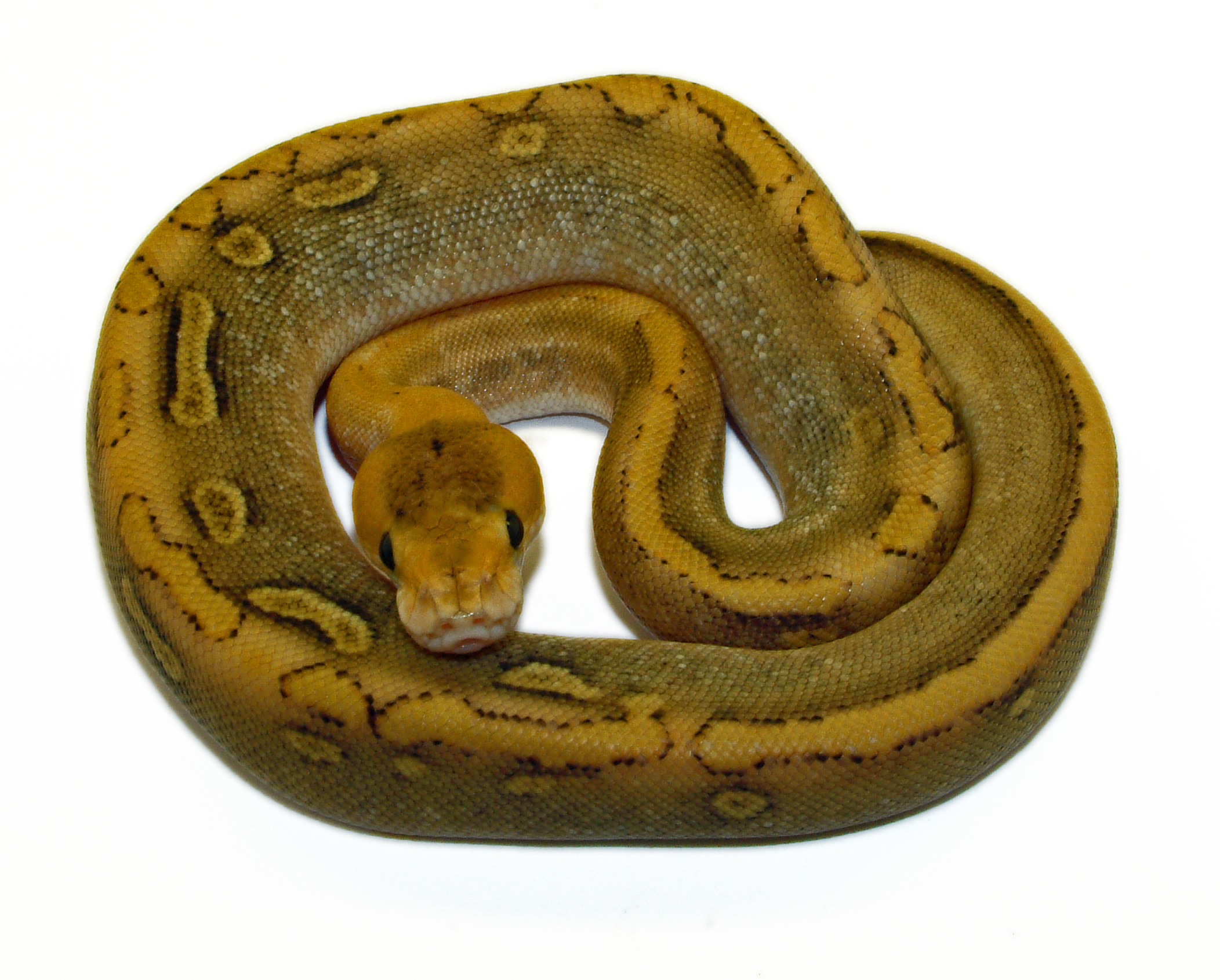 Champagne Royal Python (Python regius)

Rhythms:

An animal's circadian rhythm can play an important part in encouraging animals to breed. Keepers can opt to keep their snake at constant single temperatures at the hot end but much more preferable is to offer the natural day time high and night time low. This can be achieved by using one of the thermostats on the market that have a 24 cycle as one of their featured. These units are usually referred to as Day/Night thermostats.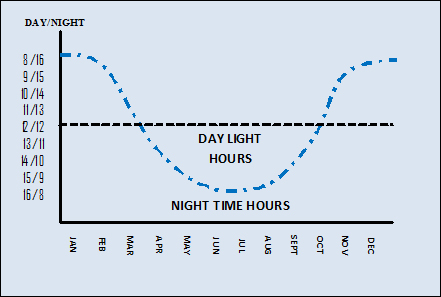 This is an approximation of the day/night cycle for animals in the Northern Hemisphere in temperate zones. These make up the majority of choices within this book. If we are raising an animal without intent to breed it is possible to maintain these animals on a 12/12 cycle. That being an equal amount of day time and night time hours. This cycle is more representative of equatorial species. If we either want to be more reflective of nature or maybe in the future we wish to breed the species from the temperate zones one of the best ways to achieve this is by extending and contracting day light hours to reflect their country of origin. This ties in with other variables such as temperature (both during the day and at night) and humidity levels.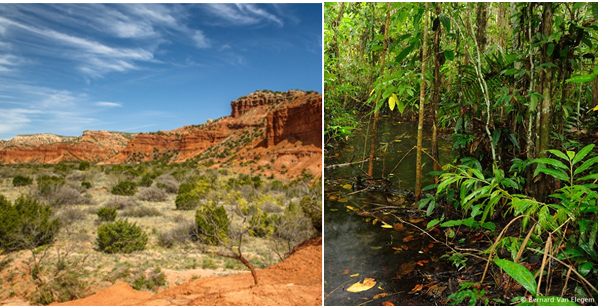 Above Left: Trans Pecos region of Texas. Courtesy of fibrechannel-europe.com
Above Right: Lowland Papuan Rainforest, Courtesy of www.bernardvanelegem.com