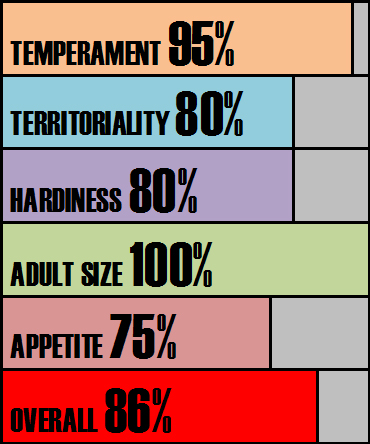 Species Notes based on experiences:
The Javelin Sand Boa is not a particularly common species within the hobby. This is a shame as it does have a lot going for it. The main issue with Sand Boas in general is within the vivarium. They simply are buried away for the vast majority of the time. This doesn't exactly scream interesting specimen. If we move past this we have a surprisingly hardy species, particularly for a Boa.
Score analysis:
In the hand a Sand Boas are usually a calm and gentle snake. Rarely do they present issues and hardly, if ever bite. They like the gaps between fingers and like to force their way between fingers thinking they are going underground.
Finding Sand Boas within the vivarium invariably involves running fingers through the substrate trying to dig them up. Some individuals are totally relaxed upon this happening; others may jerk or even head butt the offending finger. Do not be put off, once out of the vivarium any antagonistic behaviour will usually subside.
Javelin Sand Boas endure pretty extreme arid and semi-arid environments. They use the heat blocking attributes of the sandy lands where they live to retreat away from extreme temperatures. Resistant to most illnesses and respiratory infections are seldom seen in this species.
Maturing to around 75cm for a female they hit the sweet spot for adult size, mature girls become surprisingly heavy set. Males are far more diminutive and pose other issues such as feeding. Size is potentiallyonly an issue with neonates. Make sure you source your animal from a responsible breeder and potentially ask to see it feed on defrosted prey before purchase.
The weak link is the appetite of the Javelin sand Boa which in honesty is still a pretty healthy 75%. This reflects issues keepers may face with particularly young animals and trying to establish them. Expect mature males to potentially go through protracted fasting during the year. This is part of their normal life cycle but liable to worry novice keepers.
Enclosure recommendations:
Tub:
• 33ltr (extra ventilation required to stop excessive build up of humidity)
Vivarium:
• (75cm x 37.5cm) floor plan. Height not important.
Budget rig: -
• 40cm x30cm heat pad controlled by a thermostat
• Digital thermometer to monitor thermostat performance
• Hot and cold hide
• Water Bowl
• Loose shifting substrate (possibly not sand as it is too good an insulator for heat pad use in a normal living/bed room. Possibly aspen or lignocel (which will allow heat through more easily).
• A dampened hide or section under furniture when shedding cycle is taking place.
Recommended rig (vivarium only):
• 150w ceramic heater
• Ceramic lamp holder with bracket
• Bulb guard
• Day Night Thermostat
• Digital thermometer to monitor thermostat performance
• Multiple caves or pieces of flat decor
• Water bowl
• Loose shifting substrate preferably a particulate mix (including store bought options) – although allow to dry thoroughly prior to use.

Climate analysis:
Come back to this as page is not complete.
Conclusion:
Based on the 5 criteria we use the Javelin Sand Boa has only lost 14% of its potential score overall. Most keepers will find this a problem free snake to keep.