Don't panic Mr. Mainwaring!

Yes you are right certain Boa and Python species make up the largest species of snakes in the world. The true giants and record setters are members of this group. We are not concerned with those. These snakes should be reserved for only the most devoted keepers with experience and knowledge to be able to work with these truly monumental species. Boas and Pythons as you know of them actually comprise of different genus of snake grouped together under the Python or Boa banner. This book is only concerned with some of the very smallest and even tempered of these collectives.

The primary driver is to be able to pair you with a snake that you can learn with and it would be remiss to pit you against a giant or a defensive species. We shall reserve these for future texts on intermediate and advanced species.

There were however many near misses of species that almost made the cut for the final species selection. These near misses would then be considered the perfect next step snake on your journey in reptile keeping. That isn't to say your first snake isn't to be kept, quite the contrary. You have made a commitment to the snake and this commitment should last it's lifespan.

The truth is many people (once they have worked out their snake care) realize a number of animals can be kept with only minimal additional workload. Remember we are still only feeding once a week. Many keepers end up with multiple snakes, usually following some incremental difficulty spectrum. Some argue that you should keep what you want to keep. I don't see it that way, the over eager and over confident regularly become unstuck as care progresses. Why risk a snake that cannot take these mistakes. It is human nature to err and get things wrong, but when we insist on keeping animals with ever stricter parameters of care we need to realistic at least when we are starting out.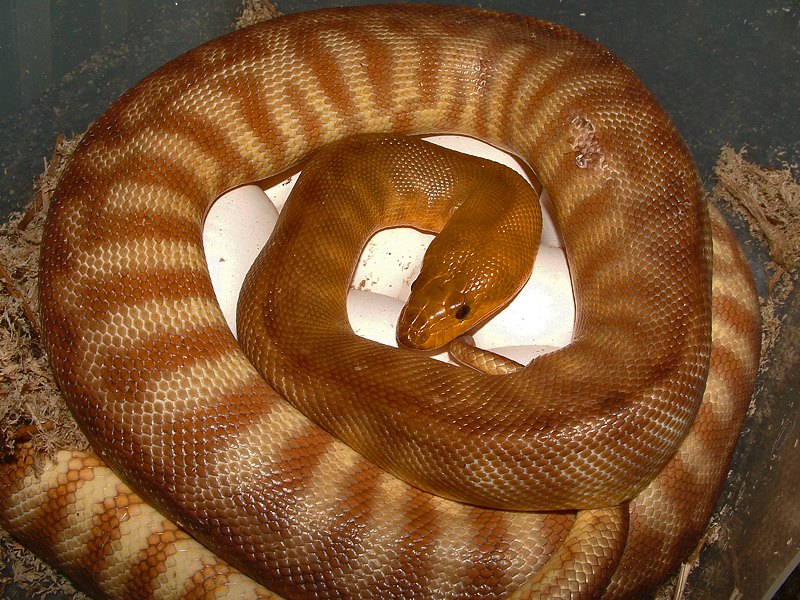 Woma Python (Aspidites ramsayi)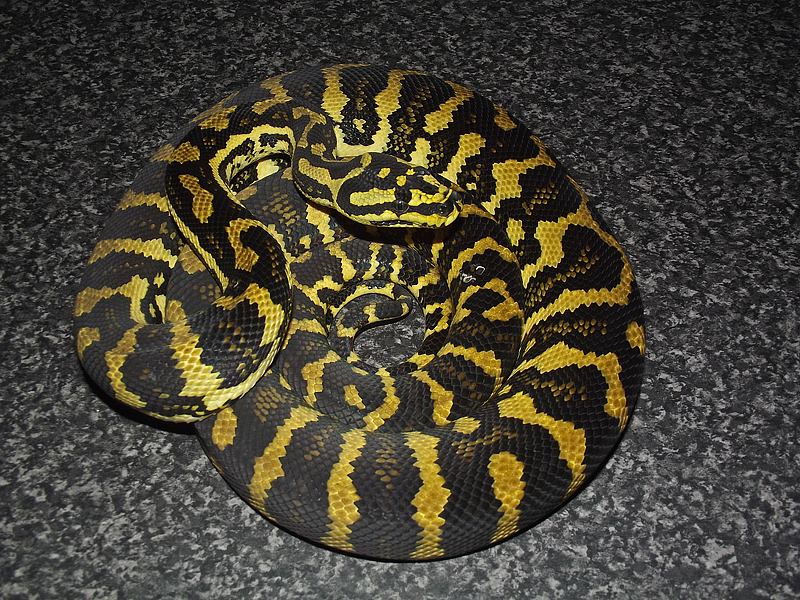 Jungle Carpet Python (Morelia spilota cheynei)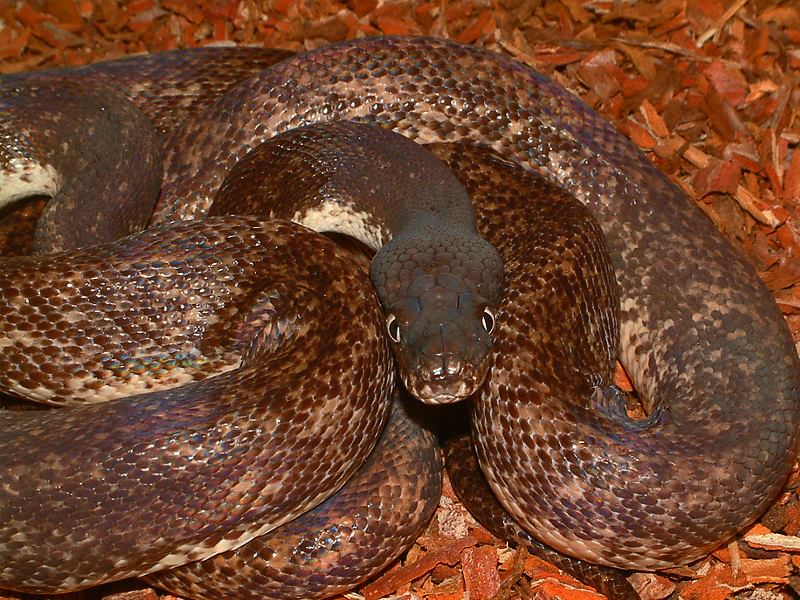 Savu Island Python (Liasis mackloti savuensis)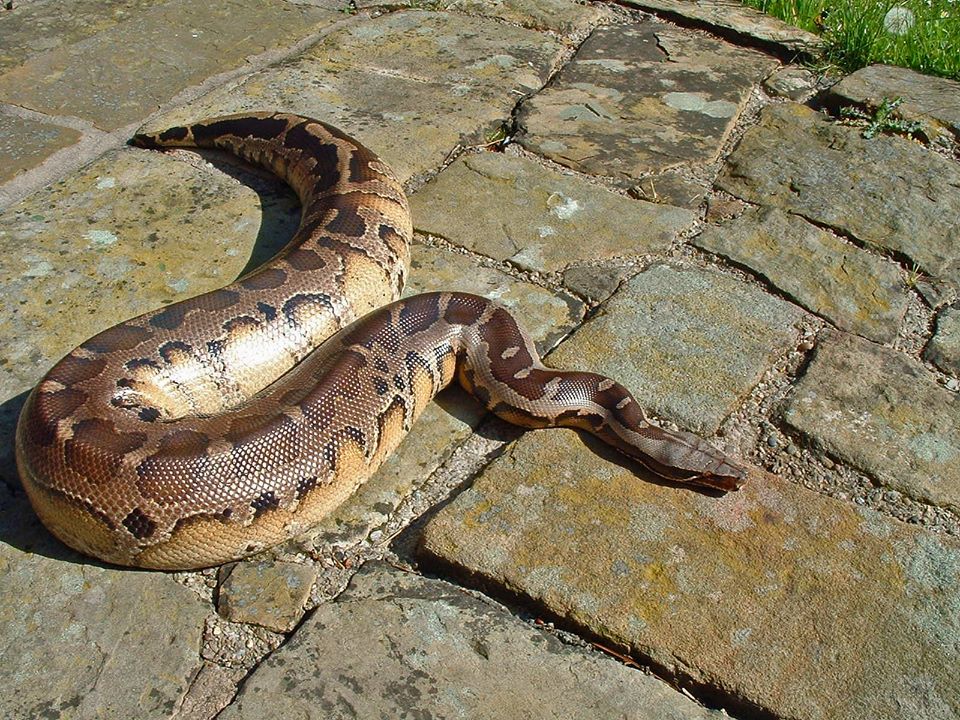 Borneo Blood Python (Python brietensteni)

Some of the near miss species include:

Woma or Ramsay's Python – Aspidites ramsayi

• A mid-sized python approaching 6ft in mature length. Powerful in build with lots of torque in it's body grip. Forgiving, owing to it's origin in the Northern Territory of Australia. This was once a very rare snake of high value but now it is commonly bred within the hobby. Of all the near misses this was one of the closest.

Savu Island Python – Liasis savuensis

• A Small Python usually only attaining 5ft in length. Very defensive as babies but calm down wonderfully in adulthood to become a great species to keep. Complications and myths exist around their breeding, only recently have breeders started cracking the code. Markedly different in personality from baby to adult. A baby can very aggressive. Subdued in colour in adulthood.

Jungle Carpet Python – Morelia spilota cheynei & Irian Jaya Carpet Python – Morelia spilota harrisoni

• Two wonderful subspecies of Diamond Python originating in Australia and West Papua (Irian Jaya) respectively. Both snakes are demented as babies. This alone is what makes them next step snakes. As adults they can become very tame and as a semi-arboreal snake a fantastic display animal. It is hard to get past just how much baby Carpet Pythons hate humans and will display it willingly by gaping and biting. Stunning in adult colour with Jungle Carpets being Yolk yellow and stunning jet black and Irian Jaya Carpets being a rich mix of tan, orange, yellows, browns and blacks.

Borneo Blood Python – Python breitensteni

• A short yet massively built species of Python. If worked with regularly can become totally tame. Problems arise with individuals that refuse to calm down. Even though the snake will only mature to 5ft in length they are potentially capable of dispatching adult guinea pigs in a single meal. This requires a proportionally large head and a large head can deliver a powerful bite should the feeling take it. Very inactive and reliant upon camouflage in the wild.

Stimson's Python – Antaresia stimsoni

• This species is the second smallest species of Python in the world. Just smaller and more slight in build than the Children's Python Antaresia childreni. Problems arise in starting these off on standard mouse prey without scenting or resistance. Often Stimson's are resistant to beginning to feed. However, once the animals have established on mouse prey after a delay they are usually very easy to keep and make reliable pets. As youngsters this species would be likely to frustrate and worry novice keepers.


Kahl Albino Hypomelanistic Motley Common Boa
(Boa imperator)
AKA Kahl Sunglow Motley Boa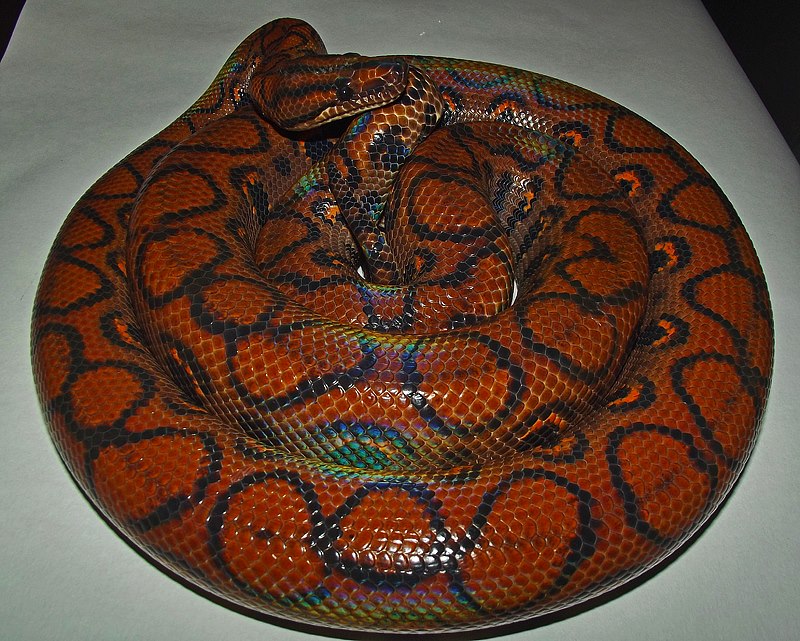 Brazilian Rainbow Boa (Epicrates cenchria cenchria)

Common Boa Constrictor – Boa imperator or Boa constrictor imperator

• A simply wonderful species of snake. Invariably tame and a great feeder. The issue here is adult size. Females can reach 8-9ft in length and carry considerably mass. An adult female Boa can outweigh even the largest snakes listed in this book 2:1. It is perfectly reasonable for a novice keeper to be intimidated by a Boa. Size is the only issue here, for a tropical species Boas have proven over the years to be forgiving and one of the hardiest tropical species. It is hard to get past the weight and strength of a Boa for a beginner. If a keeper wanted to move onto a larger species but didn't want temperament to be an issue a Boa would make a fine choice. Do not mistake for their larger more needy relative the Red Tailed Boa – Boa constrictor constrictor. Common Boas are available in a huge range of colour and pattern mutations.

Rainbow Boas – Epicrates cenchria

• Two subspecies of this lovely snake are the most popular in the hobby. The nominate form, the Brazilian Rainbow Boa Epicrates cenchria cenchria and the more plain Columbian Rainbow Boa Epicrates maurus. Size isn't really an issue here as these snakes mature to between 4.5-6ft (1.35-1.80m) in length. Issues arise with having to implement higher humidity levels and resultant respiratory infections and bad shed cycles if not implemented correctly. Apart from this these snakes can be wonderfully placid and raised without issue. As a next step species they constitute a superb choice.